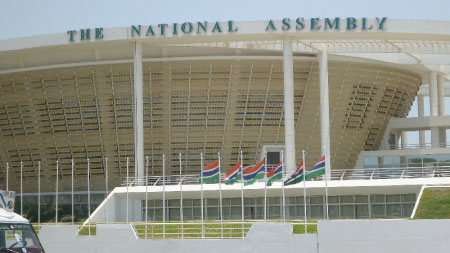 The National Assembly Members (NAMs) on Thursday approved the loan agreement that was signed by the government of The Gambia and the European Investment Bank to finance The Gambia's renewable energy project. The project will be implemented by the National Water and Electricity Company (NAWEC).

The total cost of the project is 129,510,00. However, the 57 million euros was signed as a loan.
Alagie Jawara, the NAM for Lower Badibou, said this loan should serve its purpose for the benefit of the Gambian people, arguing that all the tax payers in the country have right to get electricity and potable drinking water.
Hon. Jawara called on the monitoring committee at the Assembly to start monitoring all the government projects across the country so that the members of the parliament and the general public would know how far the projects are ongoing.
Sawaibou Touray, the legislator for Wuli East, said that the government should look for simple ways of getting the electricity and potable drinking water for its citizens before taking loans from our development partners across the globe.
Alhagie S. Darboe, NAM for Brikama North, acknowledged that the electricity is part of life and all the sectors that are operating in The Gambia can't go without the electricity. He thus lauded the initiate as a good step.
Musa Amul Nyassi, for Foni Kansala, said NAWEC needs to be monitored and put in record all the loans that were signed on their behalf to see whether they have been properly implemented.
Mambury Njie, minister of Finance and Economic Affairs, who tabled the motion stated that the renewable energy project will contribute to the enhancement and improvement of The Gambia's electricity supply and network consistent with the National Development Plan priorities with respect to renewable and modernisation of the energy sector.
He added that the project has four objectives, which are to increase electricity energy generation capacity through an on-grid utility scale solar photovoltaic (PV) plant, with a total installed capacity of up to 20 mega watt to increase the transmission and distribution capacity of energy power.
It will also provide institutional support for the electricity sector and to provide technical assistance for the implementation and installation of on-grid and off-grid PV/ battery system.
Minister Njie further said that the project would contribute immensely to the development and improvement of electricity and electricity services in The Gambia. "It would increase renewable energy; improve the security of power supply and reduce technical losses."
He added that the project would further increase the electricity power supply throughout the country as it plans to expand the national grid and connect it with the regional power system. "It would also provide institutional support for NAWEC and stakeholders hence improving efficiency in the energy sector."
Read Other Articles In Article (Archive)