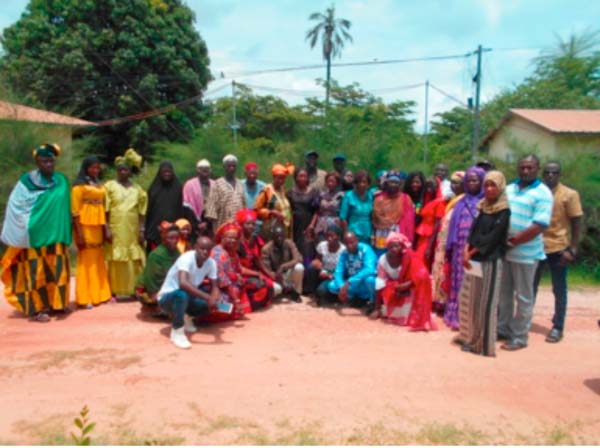 The National Coordinating Organization for Farmer Association the Gambia (NACOFAG), Saturday started a four-day training for thirty women and youth on entrepreneurship.

The training was organized by NACOFAG and funded by the Forest and Family Facility under the Food and Agricultural Organization.
Speaking at the opening ceremony held at the NARI conference hall in Brikama, Alieu Sowe, the coordinator of NACOFAG, explained that the training was meant to enhance the capacity of forest and farm producers organisation through their groups and governance entrepreneurship.
He added that the training focused on enterprise development, which was a programme initiated by NACOFAG and funded by Forest and Family Facility under the FAO.
He indicated that NACOFAG invited other members of farmer organizations to participate in the training, adding that the objective was to help them learn and share ideas and carve the way forward to better help them in their daily business.
He further explained that there are series of lapses that was why they involved NEDI and the grassroots foundation consultancy.
"We are working very closely with them to help prepare our women and youths farmers to be business conscious; to be well oriented and organised in the execution of their business programme," he divulged.
He advised the participants to know that they are the lucky people who were able to attend the training and called on them to disseminate the information to the grassroots level.
Mr Sowe also urged participants to show keen interest and commitment to the training, saying NACOFAG wants to work with partners and donors to make sure that the enterprise of the thirty women and youths are adequately addressed.
He also revealed that NACOFAG intended to conduct another training for their members in a bid to better equip them with the necessary knowledge on business development among other related areas.
For his part, the president of NACOFAG, Musa Sowe, also applauded the participants for their positive response to the training.
He noted that many applied for this proposal but NACOFAG was lucky to be awarded by FFF under the FAO to train maize growers and association of women in the fight against drought.
He said the training was meant for the maize growers and association of women in the fight against drought.
"I hope that the training will greatly help to improve the capacity of the participants in entrepreneurship development," he stated, saying the participants would be awarded certificates at the end of the training.
Read Other Articles In Article (Archive)