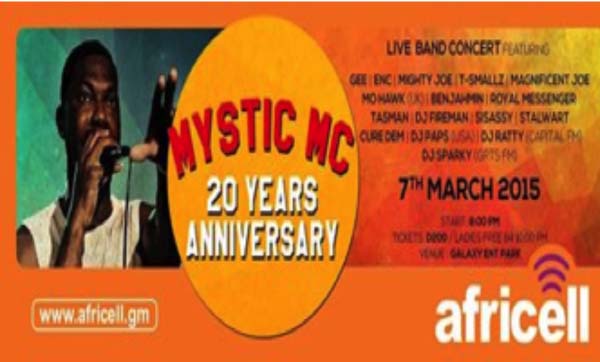 Denmark-based Gambian reggae dancehall star, Mystic MC, will celebrate his twentieth-year anniversary in the trade in The Gambia. The rising star is, no doubt, one of the finest Gambian reggae giants now making names in the international music scene.
KristofferCoker, the international artiste, composer cum arranger, in 1999 went solo from a band called 'Black Nature', a rap group credited to be the first trailblazers of the country's rap force, and released its much anticipated album called 'WARNING' two years later. Due to his energy and passion for music, Mystic produced an album with Soren at 47 Productions based in Denmark.
The renowned producer is already in the country awaiting the grand celebration, which will be held on 7th March 2015 at Galaxy Entertainment Park, situated in the heart of Senegambia.
However, the twentieth-year anniversary will be in the form of a live concert by Mystic MC, and supporting acts include ENC, Mighty Joe, T-Smallz, Magnificent Joe, MO Hawk, Benjamin, DJ Fireman, Sisassy, Stalwart, Cure Dem and DJ Ratty of Capital FM.
Suffice to state that in 2009, he was the European Reggae Contest winner for Denmark and Scandinavia. Mystic MC is one of the most touring reggae and dancehall artistes from Denmark not to mention - playing shows over the years in countries like UK / USA / Jamaica / Belgium / Norway / Sweden / Iceland / Italy / Germany / France / Canada / Ghana / Poland / Hungary / Czech Republic / Egypt / Morocco / Switzerland / Israel / China / Japan among others.
In 2003, he visited the Smiling Coast of The Gambia with King Ralph, a formidable disc jockey and a German reggae artist by the name Gentleman, for a tour that was a great success.
He is the MC and DJ for Universal Sound System, which is a foundation sound system based in Denmark. The band is geared toward promoting positive vibes, dancehall and all the hottest basement riddims, with the selectors such as Benjamin and Boomboy. Back in the days, he started it all with his homeboy Zaki, not to mention KristofferSjelberg at Vesterbrogade in Denmark. In February 2005, he was on a five-day tour in Scandinavia, with Universal Sound and the Jamaican reggae artist Eek A Mouse.
ABOUT Born Kristoffer Coker
Mystic MC foundation reggae and dancehall music artist, writer, composer and executive producer of Sky Records in Copenhagen Denmark. No bad vibes he is the President of universal soundsystem.
During the last 10 years Universal Sound has toured most of Denmark and the world. Universal has played practically every club in Copenhagen, venues like Loppen, Vega, Rust, Pumpehuset, Gråhal, Stengade 30, Ungdomshuset, RAW, The Rock, Roskilde festival etc.
Universal Sound is not only to be found in Copenhagen. They have also played in citys like Berlin, Hamburg, Reykjavik, Stockholm, Belgrade, Århus and many other venues all over Denmark. They are also well known for throwing the legendary Splash bashments in Basement. Universal has played longside people like Eek A Mouse(JA)Gentleman (GER) Rebellion, Ohoi (DK) Ill Inspecta (GER), Bliglad (DK) Turbulace (JAM) Jah Mason (JAM), Junior Kelly (JAM) Silly Walks (GER) Safari Sound (S) Komposti (FIN), Trinity Sound (S), Stone Love (JAM) Demarco (JAM) ,Deadly Hunter(UK), Ward 21(JA), Cecile(JA), Jah Bobby(DK), DjososKrost(DK), Sky Juice Sound(DK), Rubadub Crew(DK), Universal Strugglaz(GER) etc….
2009/2010 He Performed At All The Following International Festivals :
2010 - Real Beat Festival ( Czech Republic )
2010 - Nagy Ska Land ( Hungary )
2010 - LandskronaFestivalen ( Sweden )
2010 - Edinburgh Festival ( Scotland )
2010 - Gambiance - Oostende ( Belgium )
2009 - Uprising Festival ( Slovakia )
2009 - RototomSunsplash ( Italy )
2009 - Fair Trade Festival ( Denmark )
2009 - LB27 reggae Camp ( Hungary )
2009 - Ostróda Reggae Festival ( Poland )
2009 - Nemoland Open Air Festival ( Denmark )
On The Road (TOUR) International
2003 Journey to jah tour in Gambia : Gentleman / Tamika /
Mystic MC
2005 Scandinavia Tour : Eek A Mouse / Mystic MC + Universal Soundsystem
2006 Serbia : Mystic MC / Natasja + Universal Soundsystem
2008 Canada / USA : Mystic MC + Rock City Sound
2009 USA : Mystic MC + Rock City Sound.
Read Other Articles In Article (Archive)