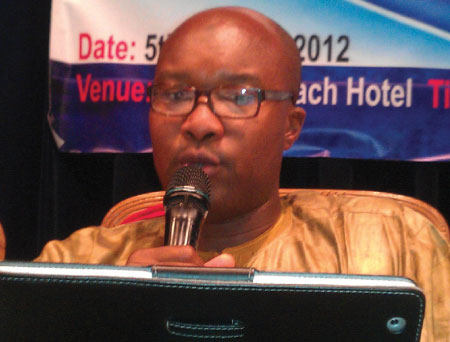 The Gambia Chamber of Commerce and Industry (GCCI) on Friday held its Annual General Meeting, which saw the election of a new Board of Directors to steer the affairs of the Chamber.
The long-awaited AGM, held at the Kairaba Beach Hotel, also saw the election of Muhammed Jagana of J-Fin Money Transfer as the new President of the GCCI.
Jagana, who has served as a member of the GCCI board since 2002, polled 208 votes against Mrs Fatou Sinyan-Mbergan of Banjul Breweries Limited, who managed to poll 156 votes.
Papa Yusupha Njie of Unique Solutions was elected as 1st Vice President unopposed, while Papa Leigh of Africell, and Fatou Njie of Total were elected unopposed as 2nd Vice President and Treasurer respectively.
Salieu Taal a lawyer, Fady Hocheiny of the MFH Group, Dawda Sarge of Prime Insurance, Sulayman Joof of the Association of Clearing and Forwarding Agents, Ousainou Dambell of DBC and Jojo Ndong of Jorgo Organics were elected as members of the new GCCI board directors.
In his acceptance speech, Muhammed Jagana assured the gathering that the new board will do their best in serving the chamber.
While reiterating the need for the board and the management of the chamber to work in harmony, Jagana noted that they are all here to share a vision.
"I will emulate the past president," he assured, while urging his fellow board members to note that as board members, they are the true representatives of the business community; thus the need for responsibility socially and morally.
"The economic interest of the members should be a priority," he added.
Delivering his report to the gathering, outgoing GCCI President Bai Matarr Drammeh highlighted the achievements and challenges faced by the chamber over the past six years.
Meanwhile, consensus was reached by members on issues such the proposed employers association, establishment of a committee and sub-committee of board members, establishment of the president's advisory council, as well as the establishment of a thrust to hold GCCI assets, which were all adopted as part of the amended GCCI constitution.
The ceremony also witnessed the adoption of the auditors' report from 2006-2010, as well as a presentation of amendments to the GCCI constitution.
Read Other Articles In Article (Archive)