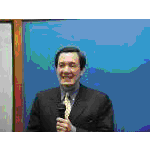 An estimated 530 foreign delegates are expected to attend president-elect Ma Ying-jeou's presidential inauguration next Tuesday, the Ministry of Foreign Affairs revealed.
"There are more than 530 foreign guests, including special envoys from 22 out of 23 diplomatic allies, that will attend the inauguration ceremony," MOFA spokeswoman Phoebe Yeh said at a press briefing.
The Caribbean allies of Haiti and the Dominican Republic are planning to dispatch a presidential office secretary-general and a ministerial level official, respectively, to the ceremony, Yeh said.
She added that although Saint Lucian President Stephenson King would not be available for the ceremony, he would pay a state visit to Taiwan later this year.
Yeh said that countries without diplomatic relations with Taiwan are also enthusiastic about Ma's inauguration. The US will have the largest foreign presence at the ceremony, with 120 dignitaries, including congresspeople, academics and former government officials participating in the event.
A five-member delegation, led by former White House chief of staff Andrew Card, is expected to attract the most attention among the foreign guests.
The other members of Card's delegation are AIT Chairman Raymond Burghardt, American Institute in Taiwan (AIT) Director Stephen Young, former Massachusetts lieutenant governor Kerry Healey, and Frank Fahrenkopf, a member on the board of the International Republic Institute, a statement issued last week by AIT said.
Japan is expected to have around 76 representatives attending the festivities.
Tokyo Governor Ishihara Shintaro, Mayor of Yokohama Nakada Hiroshi and Okinawa Governor Nakaima Hirokazu have all confirmed their visits, Yeh said.
Parliamentarians, think tank representatives and academics from Australia, New Zealand, South Korea, the UK, Peru and Venezuela are also expected to come, she said.
We wish to inform those wishing to help Samba Saine the boy featured in Friday's edition and needing medical treatment abroad that the following are the contact numbers 9924403, 9740416, 7710867 and 6475185.
Read Other Articles In Article (Archive)