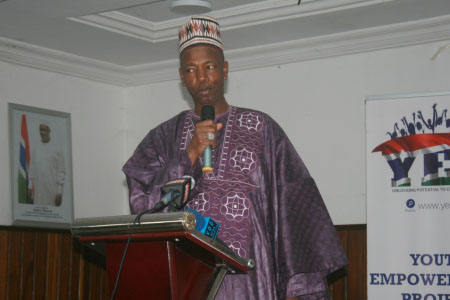 The minister of Tourism and Culture has challenged every citizen of The Gambia to be always reciting or singing the country's national anthem orally rather than listening to a recorded version or audio played by DJs at any gathering. He added that reciting it is a sign of one's love and pride for the country,

Hamat N.K. Bah who could not hide his feelings at the end of The Gambia's national anthem audio which was played at the official launching ceremony of the Youth and Trade Roadmap for The Gambia's creative industries held at a local hotel last Tuesday described it as something 'sad.'
"When we are singing our national anthem, let's stop listening to the audio but sing with our mouths," he urged.
Minister Bah, who was visibly not happy after observing a large crowd listening to the national anthem without uttering a word of the anthem, said "it is only in The Gambia that plays audio of the country's national anthem without people singing the wordings with mouth but listening only to the audio."
The minister pointed out that singing or reciting it with mouths instead of listening to the audio alone "will make it echo in our minds and get us back to who we are and what we are."
He said each time there is football match that The Gambia is playing host, the national anthem will be playing while spectators will listening to it without reciting/singing it alongside with the audio. "But come to the turn of the visiting team whose number might be less than 3% of the spectators will sing their national anthem out through their mouths for everyone to hear."
He said: "this is sad," but "let's sing it with our mouths and be proud of it," while he encouraged citizens to visit the national archive/museum and to know more about the importance of the national anthem.
Read Other Articles In Article (Archive)