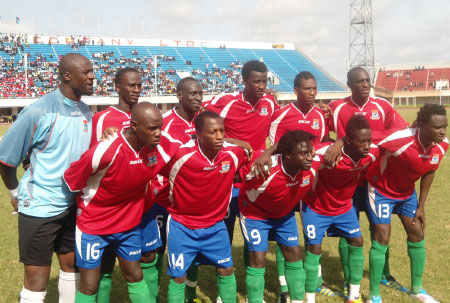 Gambia's soccer fans have expressed their dissatisfaction with the Scorpions for their embarrassing defeat to Namibia in the African Nations Cup qualifiers in Windhoek at the weekend.
The Scorpions' shocking 1-nil defeat in a crucial qualifier game has caused serious damage to the team's chances of making their first appearance in the continental showpiece but some pundits believe there is a slim chance of a possible best losers hope.
The result was also met with great disappointment and surprise by a teeming number of the Scorpions fans back home.
Pointsport went out and about to sound the opinions of some football followers in Brikama, Lamin and Bakau.
First to speak to this reporter was one angry fan, who preferred to remain anonymous.
He said: "I did not watch the game neither did I listen to the radio commentary but I believe the team lacks total commitment and experience to deal with such a crucial and decisive match of this magnitude.
"I felt bad when I received the news of the result unexpectedly, considering the team's convincing win over DR Congo in an international friendly match.
"It has completely dashed our hope of appearing in our first ever Nations Cup finals and this will have a psychological consequence in the progress of our football at the senior category.
"It is a huge humiliation for the team and I think Pa Dembo Touray should give chance to Musa Camara at the goal." 
Next to speak to Pointsport was a well known Gambian sports personality, Besenty Gomez, former executive secretary of the National Sports Council, who has worked with West Coast Radio as a sports analyst and presenter.
He is with the view that the defeat in Namibia was least expected, saying, "To be very honest, I least expected the defeat away in Namibia after the boys raised our hope with a convincing 3-1 win over DR Congo when most of us were fasting.
"Going to Namibia with almost 15 foreign-based players only to be beaten by an inexperienced Namibian team for the first time was unexpected.
"We were all looking forward to our first qualification to the Nations Cup but despite the setback, we cannot cry over spilled milk but it is high time we sat and actually found out why we cannot qualify when we all thought this was our year.
"We might be disappointed as a people and a nation but it should not just stop at being disappointed; we need to find out why, to avoid such in another campaign."
Pointsport also met Ndey Busso of GRTS, who also expressed concern after the team's dismal qualifier campaign. She said: "After twelve months of preparations, it is sad to see the Scorpions suffer a defeat in such a crucial stage of the qualifying campaign."
Busso, who spent a good number of years as a sports reporter with a host of the country's media houses before her recent switch to the Gambia Radio and Television Service, (GRTS), attributed the team's disastrous defeat to the absence of key players like Njogu Demba, Ousman Jallow and Momodou Futy Danso, who were all unavailable for various reasons, as well as the late arrival of few other key members of coach Paul Put's team.
She also blamed the defensive partnership of Omar Jawo and Lamin Samateh, who started as centre backs for the first time, as one of the factors responsible for the team's defeat, as well as the withdrawal of left back Pa Modou Jagne, who was substituted in the early part of the game after picking up an injury. Jagne was eventually replaced by Abdoulie Mansally in the process.
"It is high time that we shifted our attention to the home-based players, who I believe can give us the desired result," Ndey told Pointsport in an interview in Brikama.
Read Other Articles In Article (Archive)