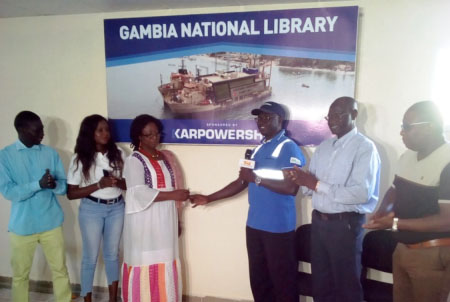 Karpowership, the owner, operator and builder of the only powership (floating power plant) fleet in the world yesterday inaugurated the refurbished Gambia National Library, Brikama Branch.

Karpowership sponsored the refurbishment of the library at the tune of five hundred thousand dalasis. In addition it also purchased furniture and a giant photocopier for the library.
Karpowership in February 2018 signed a PPA agreement with NAWEC connecting its 36 MW Karadeniz Powership Koray Bay to The Gambia national grid.
Speaking at the inauguration, Yankuba Mamburay Project Manager for Karpowership expressed gratitude to the government of The Gambia and NAWEC for the opportunity given to them to contribute their quota toward the amelioration of power supply in The Gambia as well as the development of the country.
He pointed out numerous activities they had undertaken in the country including distributing hundred bags of rice and sugar to the needy during the last two Ramadans, Tobaski rams, supporting NEA during international coastal cleanup days, rehabilitation of the baby unit of the Children's wing at EFSTH among others.
He expressed their readiness to continue to engage in social responsibility projects that will help the growth of local people as well as providing educational tools.
He noted that the library, furniture and copier will benefit the communities and general population.
In conclusion he urged students and public to take advantage of the opportunity.
Alagie Fatty who deputised for West Coast Region Governor thanked Mr Mamburay and Karpowership for their foresight which he described as timely.
He added that the gesture will improve academic performance of students and the public.
Matilda Johnson, Director General of Gambia National Library said for some time now readers who have been coming to the library were uncomfortable and as such thanked Karpowership for the refurbishment.
She added that they need to raise the standards of the library and described the refurbishment as the first step towards that direction.
Lamin Fatajo, Regional Education Director described library as an essential element of not only improving learning in communities and their economics, improve language and professional skills, preserve culture and history but also get the truth and facts from libraries.
He also described libraries as an opportunity for students and teachers to improve on their content knowledge, make research and group works as well as enrich their lessons.
Read Other Articles In Article (Archive)