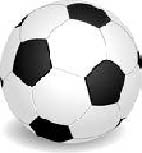 Milan Football Club, one of the most popular nawetaan clubs in Bakau in recent times, are set for a lengthy spell of suspension after the Bakau sports committee members unanimously agreed to impose a five-year ban on the team with seven thousand dalasi fine for their unsporting behaviour during their match against Ron Mango at the Bakau Mini-stadium recently.
It was last week reported that a fan who claimed to be a supporter of the Bakau Kachically outfit was spotted slapping central referee Omar Sallah, whom he accused of being responsible for Milan's defeat by Ron Mango after Assan Jatta's brace sent Ron Mango into the knockout final.
The Bakau Mini-stadium on that fateful day was sparked into chaos when supporters of Milan clashed with military personnel following the incident, which resulted into some people sustaining serious injuries.
After thoroughly looking into the matter surrounding the whole fracas, members of the Bakau Zonal Sports Committee on 8 November met to take a decision on the issue and decided to impose a five-year ban on Milan with a fine of D7,000, a move that has certainly ended Milan's hope of taking part in this year's third division qualifiers.
In confirming the news of Milan's ban to reporters at the Bakau Mini-stadium on Saturday, Masanneh Jammeh, secretary general of Bakau Zonal Sports Committee, said they met as a committee and decided to punish the culprits, adding that the "fracas that disrupted the match is a great disappointment".
As part of the ban, Jammeh added, Milan and its players will not take part in any nawetaan competition in and outside Bakau.
Jammeh, who was among the few new faces that have been included into the executive committee of Bakau Zonal Sports Committee, also gave a strong warning to other teams saying any team that violates the laws of the game will face similar punishment.
Describing the incident as unfortunate, Jammeh said: "The Bakau Zonal Sports Committee will not relent in its effort to maintain fair play in the game."
Efforts to reach the president of Milan, Ousman Drammeh, for his reaction to the news of the ban proved futile.
The news came as a shocking blow for Milan and its management who have in recent years benefited from a huge partnership deal of a bilateral relations with Aegon and Ajax in the Netherlands, whose representative was present at the time when the incident occurred.
Read Other Articles In Article (Archive)