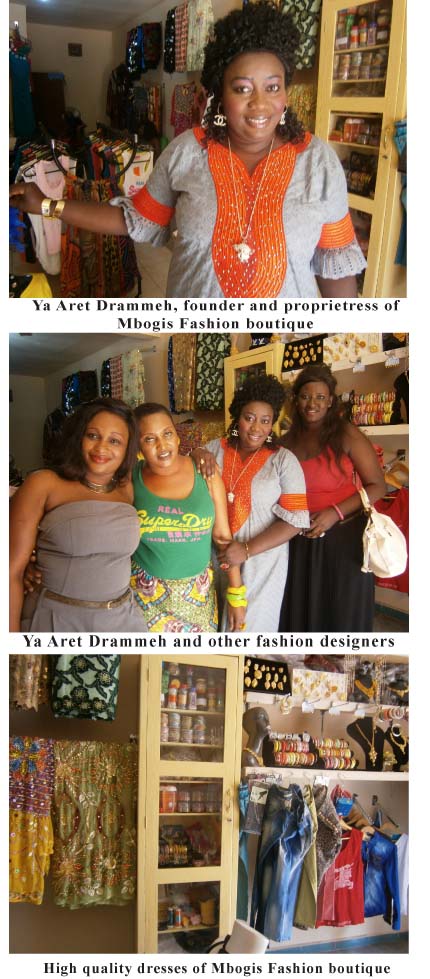 The fashion industry in The Gambia has got another one-stop shop of fashion and lifestyle attires that are of international standard.
The Mbogis Fashion boutique situated at Independence Drive opposite Polly Clinic in Banjul is a new outfit out to add value to the tastes of high-profile ladies and gents.
Speaking in an interview to Point Entertainment and Lifestyle, Ya Aret Drammeh, founder and proprietress of Mbogis Fashion boutique, said her vision is to see Gambians top of the world in fashion and beauty.
"With my taste and living in London - the fashion capital of the world - I have observed the tastes and touches that make someone looks competitive in clothes and shows," she says.
Ya Aret, who was born in Banjul and lived in the UK, has been in the business of fashion and design for over fifteen years.
She decided to return to her homeland to continue the business of fashion and to add value to the industry by placing Gambian stuffs confidently in the limelight.
Beauty is universal, she says, adding that her aim is to make people comfortable in the eyes of others. "I wish to see everyone beautiful, through sound fashion and lifestyle," Ya Aret says.
She continues: "Young people can learn from me as entrepreneur; they can also learn how to select what is attractive and demanding for the market.
"My clothes are demanding and in fact people have not seen them all yet, but I would like to have a fashion show to exhibit them and to be part of fashion shows just for people to see them, especially those outside Banjul.
"We provide clothes, shoes, bags and household assessments for men, ladies and teenagers."
Lady Aret also says Mbogis Fashion is a trendsetter in The Gambia as well as in the sub-region.
"I am ready to take the challenge; that is why I decided to come back to my country to contribute to the socio-economic development of The Gambia," the fashion guru says, adding: "I and Mbogis Fashion can also be reached by email through: mbogis1@gmail.com or via facebook mbogis fast-boutique."
Read Other Articles In Article (Archive)