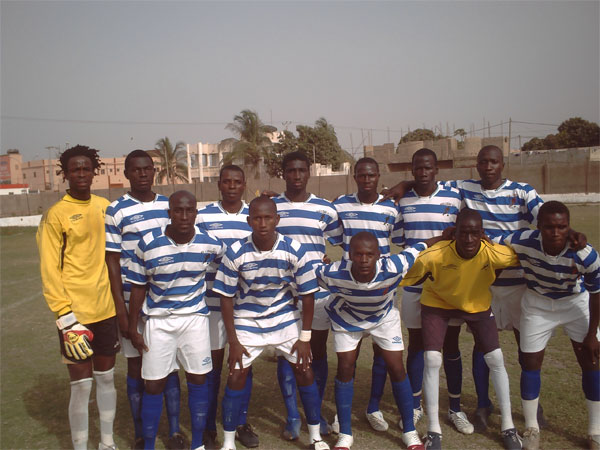 A victory over Hawks last evening has earned Wallidananother title and crowned champions of the 2007/8 GFA first Division league, finishing first with 39 points.
They trashedfellow contenders Hawks FC 3-1 at the IndependenceStadium in Bakau.
The Blue boys of Wallidan, Hawks and Samger were all at 36 points with Wallidan and Hawks having a greater advantage over Samger on a goal difference of two.
A determined Wallidan side was poised to claim this year's title andhave done it amicably by putting pressure on Hawks right to the end.
Wallidan utilized the few chances they had and scoredtwo solid goals in the first half through Unusa Jallow in the4thminute and George Cole 40th.
Ebrima Sonko in the 59thminute of the second half netted in Wallidan's third to seal a 3-1 win over the Red Devils of Hawks.
Hawks, who fed on crumbs of possessions tried coming back into the game to revive their hopes of winning the league after many years, as Musa Manneh in the 82ndminute scored the only goal for Hawks.
The game was also marred by interesting and dramatic actions by players and officials of both teams .Mansour Jeng , Wallidan'sAssistant Coachand player Saikou Tunkarawere sent off in the 65 and 85 minute respectively for misconduct during the game.
Potential winners, Samger, were also locking horns with Stevebiko at the SerrekundaWest mini Stadium.
Where in the 33rd minute, Lamin Samateh put Samger ahead, raising their hopes of winning their firstleague title.
However, Steve Biko ended Samger's hope in the 89 minute through an equalizer fromKawsu Jatta.
Samger now finishes second with 37 points followed by Hawks with 36. Wallidan last won the first division leaguein 2004/5GFA Season.
Read Other Articles In Article (Archive)