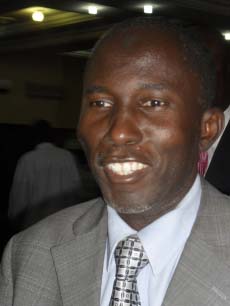 "
The Central Bank of The Gambia has suspended money transfer services from three major Money Transfer Operators namely, Ria, Money Express and Wari from operating in the country's foreign exchange market.
In a statement issued late on Wednesday, the Central Bank said the suspension will take effect from today Friday 21st June 2013 until further notice.
'Consequently, all Authorized Dealers and the General Public are advised that with effect from Friday, June 21, 2013, any foreign exchange transactions, including sale and purchases through these MTOs as well as transfer of funds through them and/or on their behalf is illegal,' the statement said.
The Central Bank of The Gambia also said it has observed that the transactions market for foreign exchange remains broadly consistent with economic fundamentals.
The Bank, however, noted that the speculative activity by market operators in the domestic foreign exchange market continues to exert pressures on exchange rates, resulting in continuing depreciation of the Gambian Dalasi.
'Recently, the Monetary Policy Committee hiked the Rediscount Rate by two percentage points, increased the Required Reserve Ratio and reduced limits on Net Open Position (NOP) of banks.The measures were intended to encourage investment in Dalasi assets and dampen demand for foreign exchange in the market. The Bank further indicated that it would closely monitor developments and take additional measures if deemed necessary,' the Central Bank added.
The Central Bank further stated that in order to reinforce the monetary policy stance and restore stability and confidence in the foreign exchange market, it has decided to increase the Required Reserve Ratio further by three percentage points to fifteen percent.
This measure, it added, will take effect from June 24, 2013.
Read Other Articles In Article (Archive)