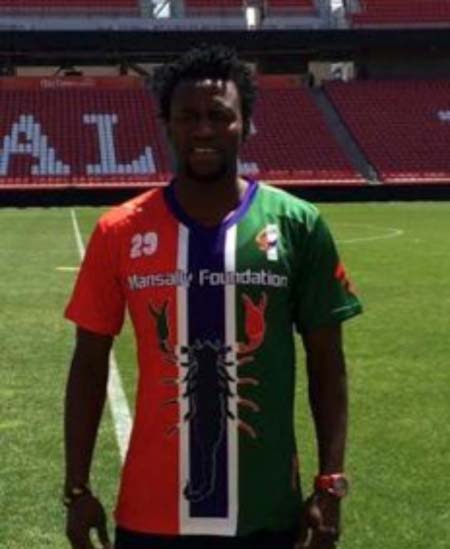 The Mansally Foundation initiated by Gambian International football player Abdoulie Kenny Mansally over a year ago in United States of America where he plays his club career with Real Salt Lake in the Major Soccer League is expected to be launched in The Gambia on Thursday 7 January 2016.
The launching of the foundation, which has been helping football, health, education and the needy, will take place at the Serrekunda East Mini Stadium at 10am.
Speaking to Pointsports ahead of the launching, Abdoulie Kenny Mansally said they did a lot last year but will be doing more this year.
Kenny, as he is fondly called, added that the foundation is all about giving back to the community.
Mansally said they have been organising soccer clinics, giving football boots, which are collected in the US and brought for Gambian youths.
He said the people have also been donating money which they have been using to buy bags of rice and distributing them to the needy, especially single parents.
He added that the foundation has also been supporting the health sector by helping people who need overseas treatment.
He said he was motivated to start the foundation because who feels it knows it.
"Once I was part of it growing up as a soccer player and not having some of the things I needed," he said.
"I was growing up with no football boots playing on the streets with your toes being cut," he further said, adding: "Some days you would go home from training without food to eat and go to bed hungry."
Coming from this background to professional level today, Mansally said he deemed it necessary to help others.
"I want to make a change for those kids even though I cannot do it all." He said. "I want to play my part in ensuring that kids do not go through such anymore."
He therefore called on the public to support the cause.
On the night of the launching, he said, they will stage a show at Father Farrel Hall, Westfield, to raise funds, which will be given to needy ones.
The show will feature Gambian top artistes such as Manding Morry, Jali Madi, Bai Babou, Bro K, Nova among others, he said, adding that ticket is D50, which has a raffle number from which people can win a 'Mansally jerseys'.
Jodi Jones, who is in charge of running the Foundation in the United States, described Mansally's initiative as "fabulous", saying, people love him in the US because he loves kids.
She said, she expects to see a lot of people offering a lot of support on the day.
"I love The Gambia and am happy to be here - I love how people accept me - they are very kind," she said.      
Read Other Articles In Article (Archive)