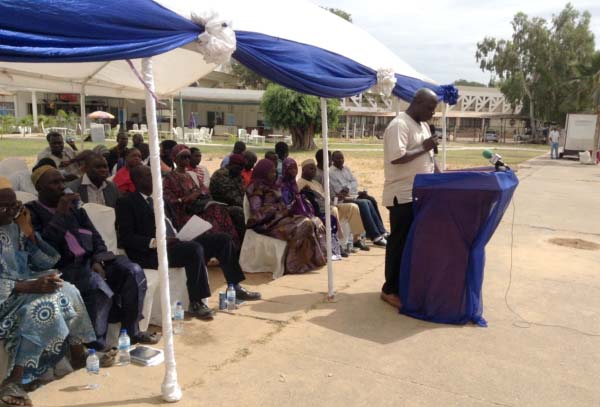 Stakeholders from the legal and health sectors recently converged at the Arch 22 in Banjul to witness the official launching of RAID capacity building project.
The 24-month project is supported by African Capacity Building Foundation.
Samboujang Conteh, executive director of Raid Gambia, said under the project, Raid and partners shall conduct series of consultations and advocacy activities for a bill to be enacted by the Cabinet and National Assembly.
He said the project has three components: building the institutional capacity of Raid Gambia, advocating for the enactment of a comprehensive tobacco control bill, and strengthening the collaboration among tobacco control stakeholders.
"We envisage that this comprehensive tobacco bill will incorporate all other pieces of existing tobacco control law in The Gambia in order to have a single comprehensive tobacco control law," said Mr Conteh.
The Gambia is a signatory to World Health Organisation framework convention on tobacco control which has regulatory measures to control tobacco use.One of the measures there in is for signatory countries to have a comprehensive tobacco control bill.
Modou Njie of the health promotion unit under the Ministry of Health said Raid Gambia is always behind the ministry in the fight against non-communicable diseases, particularly tobacco control.
"My ministry is always proud of Raid Gambia for their active role and involvement in the fight against tobacco and raising awareness on the dangers associated with its use," he said.
The director of health promotion said globally, tobacco epidemic kills nearly six million people each year.More than 600,000 of those killed are non-smokers dying from breathing second-hand smoke.
"Unless we act collectively, the epidemic will kill more than eight million people every year by 2030 and more than 80 per cent of these preventable deaths will be among people living in low-and middle income countries," Mr Njie said.
He said in The Gambia, tobacco use constitutes one of the most significant risk factors for non-communicable diseases.
"Directly or indirectly, tobacco-induced cancer, disability, heart diseases, chronic respiratory diseases, diabetes and their complications place an unnecessary high burden on the meagre resources for the health sector," he explained.
Statistics revealed that tobacco use, particularly cigarette smoking, is on the increase among both the adolescent and adult populations in The Gambia.
According to a recent research, smoking prevalence in the adolescent population aged 13- 15 years is estimated at 24.5%, the majority, 28.1%, of which are boys and 31% prevalence rate among youth population aged 25-34% years.
Therefore, Mr Njie said an average adult Gambian male aged 25-64 years smoke about 10 sticks of cigarettes a day and that indicate high level of cigarettes consumption in the country.
Receiving a certificate of honour on behalf of his father Momodou Gassama, Kadijatou Gassama thanked Raid Gambia for their dedication and hard work in the fight against tobacco in the country.
The launching ceremony was characterised by musical jamboree and the inauguration of Raid Gambia regional office in Banjul.
Read Other Articles In Article (Archive)