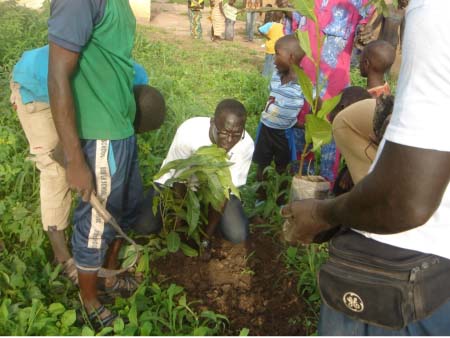 Beakanyang Kafo, a community-based organization in the Upper River Region, at the weekend planted about four thousand trees in their climate change project mitigation intervention communities in Wuli West District.
Officials of the organization consider massive tree planting key to climate change mitigation.
The trees were planted at woodland gardens and strategic locations in Barrow Kunda, Jah Kunda, Draman, Chamoi Bunda and Gunjur Kuta while a similar exercise is expected to be held in the village of Limbambulu Yamadou in coming days.
Speaking at the commencement of the exercise in the village of Jah Kunda, Nfamara Jawneh, the climate change project coordinator of Beakanyang, thanked members of the community for their large turnout and active participation.
He told participants at various sites that the devastating effects of climate change on the country could be drastically mitigated if all Gambians are fully committed to planting more trees annually.
Mr Jawneh encouraged communities to take good care of the trees planted, which include mangoes, cashew, guava and cashier.
He told communities that humans and trees need each other for survival and appealed to them to adopt the culture of tree planting.
He disclosed that the trees planted formed part of a 12-month environment project (January-December 2013) activities being implemented by Beakanyang with support from the Global Environment Facility Small Grant Programme of the UNDP.
Mr Jawneh lamented that the immediate and long-term impacts of climate change are threatening social and economic development of the country.
For his part, the Alkalo of Jah Kunda, Alhagie Sedia Barrow, thanked Beakanyang for launching the exercise in his village.
The Village Development Committee (VDC) chairman of Jah Kunda, Alhagie Arafang Sanuwo, applauded the organization for not only supplying them with trees but for also providing them with good quality fencing wires.
According to him, the kind of wires provided by the group is essential for keeping the animals away and eventually ensuring the protection of the trees.
In Barrow Kunda, the tree planting committee chairman and a member of VDC, Sarjo Bamma, promised that the trees planted would be well protected.
"Already we have set up a committee of which I am the chairman to ensure the maximum protection of these trees," he said.
He described the development as unprecedented in the history of the village and the district as a whole while thanking Beakanyang for the assistance.
Read Other Articles In Article (Archive)