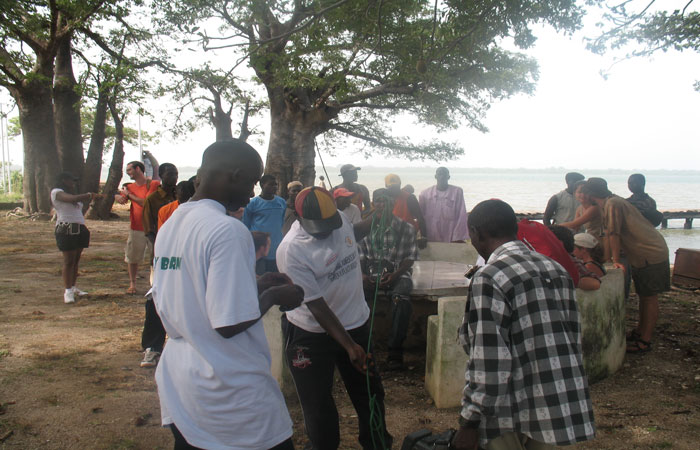 JamesIsland and related sites have been inscribed in the world heritage list of the convention concerning the protection of the world culture and national heritage. Inscription on the list confirms its exceptional universal value which deserves to be protected by all ways.
The National Council for Art and Culture, Peace Corps volunteers, community members and US Embassy staff last Saturday embarked on a massive mangrove planting exercise at James Island Slaves Centre in Alberada. JamesIsland was said to be affected by sea erosion for some time now and the size of the Island is getting more and more narrow every day as a result.
Speaking at the exercise Mike McConnell, the country Director for Peace Corps, said that he is delight for the Peace Corps volunteers to be associated with this project. He said the whole idea came from one Peace Corps volunteer by the name Kawsu Marong who is residing in the AljamduVillage. Mangroves are an unusual tree that can live in salt water and it can control the erosion. He said 95 volunteers are currently in The Gambia studying in different areas such as culture education just to name few and nine of them took part in the mangrove planting. He said, "JamesIsland is a very important island in the history of Gambian Tourism. He said some two weeks ago one side of the island wall fell down as a result of the erosion and a big baobab tree on the island side also fell down as a result of erosion.
Also speaking at the event, Mr. Bakary Sanyang, assistant director of research and documentation of NCAC, said that his office feels that JamesIsland is very important in history of the Gambia's tourism. He said JamesIsland is suffering heavy erosion and is reducing in size. "Due to the low land of the island, some structures are at times beaten by the waves during high tide and storms," he said.
Others who took part in the exercise were Mr. Mustapha Jabang, sites manager of the Island and US Embassy staff.
Read Other Articles In Article (Archive)