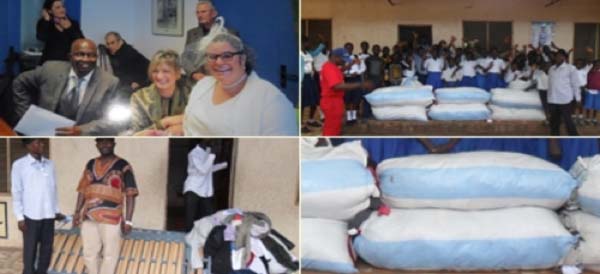 Maria Angels Numo for Disability Orphans, with the acronym MANFDOA, yesterday donated 10 bags of secondhand clothes, library books, markers among other materials, to St. John's School for the Deaf.
Speaking at the handing over ceremony held at the school ground, Numo Sorra, founder and CEO of MANFDOA in The Gambia, informed the gathering that the foundation was established in 2013 in Barcelona.
It was also officially registered in The Gambia in the same year by him and his Spanish wife Maria Angels Serra Sorra.
Mr Sorra added that they are assisting a lot of associations and schools because they have found out that in The Gambia a lot of schools need assistance to improve their livelihood.
He divulged that they also want to help the disadvantaged because not everybody could afford to be schooled.
He recalled the previous assistance rendered to about 15 schools in Lower and Upper River Regions, as well as a recent donation of 20 wheelchairs to Gambia Federation for the Disabled, 2 wheelchairs to Kiang Nema and 5 wheelchairs to Sibito Health Centre.
Sorra disclosed that the materials are donations by friends, institutions, partners and parastatals within Barcelona, adding that they hope to send more containers to The Gambia to support disadvantaged students in the near future.
"Extending our hand to other regions of the country is part of our plans," he stated, saying that his wife who is physical challenged was very instrumental as she conceived the idea of helping the physically challenged is of paramount importance.
He further stated that they have also brought a bus which would be made available to students in need who want to go on excursion but could not afford to hire a bus but could meet fueling cost.
He expressed their readiness to continue supporting St. John's school for the Deaf, noting that the school really needs support.
"Disability does not mean inability and therefore we need prospective people to give physically challenged people a brighter future as well as upgrade their academic field," he remarked, while thanking Daniel Mendy for his dedication and commitment to the school.
Daniel Mendy, Principal St. John's School for the Deaf, while expressing appreciation, said the materials were value for money especially as they could not afford them.
He thanked Mr Sorra and wife for the kind gesture on behalf of the students and their parents, saying they would use the clothes as an a bait to encourage the children to return to school in the first week of re-opening when they would distribute to them.
"It is one way of facilitating their return to school as well as take home something," he said.
"You have given us an opportunity and a ladder to climb higher," he told Mr Sorra and wife.
Read Other Articles In Article (Archive)