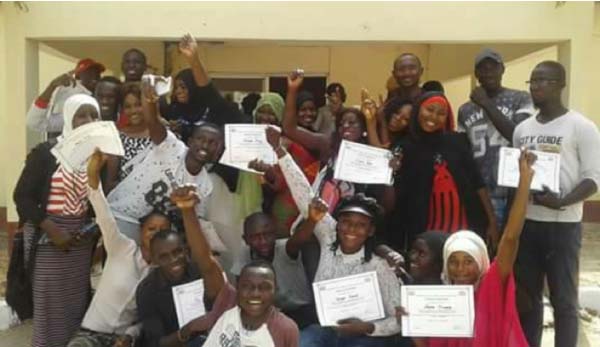 ChildFund Alumni Association at the weekend concluded a three-day mentorship training for more than 30 of its members on leadership skills, career development, entrepreneurship and roles of youth in community development.

The event, held at the Sanyang Nature Camp in Kombo South in the West Coast Region, brought together participants from various affiliated federations.
The capacity-building training, according to the organizers, was meant to familiarise the entire alumni body and creating ways of how best to give back to ChildFund for the support they had rendered to them through sponsorship.
In his welcoming remarks, the chairperson of the Alumni Association, Alasanna Badjie, highlighted the numerous developments that had been registered since the inception of the association.
The alumni association would continue to remain grateful to ChildFund The Gambia for its intervention in various areas including education and health, he said.
''The primary reason for sanctioning the association is to recommend the efforts of ChildFund and also giving back certain assistance to the organization which will be very much helpful to improving the entire sponsorship area of the organization," he said.
"We are here today with pride and successful stories to tell because of the impactful result ChildFund has done to our lives,'' he added.
Musukuta Comma Bah, national director for ChildFund The Gambia, advised the association members not to always rely on ChildFund for financial assistance in the execution of their programmes.
She said other sustainable financial sources have to be harnessed by the association in making sure that sustainable programmes are always implemented for the members.
"We all know finance is a trouble today and ChildFund does entirely depend on subsidies for the implementation of sponsorship programmes and payment of salaries," she said, adding: "It will be prudent enough, when the Alumni Association find ways of gathering funds from other meaningful sources."
She further reminded them of the current global financial hindrances, saying that would not make ChildFund relent in their support for the association hence assured them of her open door policy as director of ChildFund Gambia.
Edrisa Cham, national coordinator of National Organization for Development of Children and Youth (NODCY), highlighted the numerous developments registered by the new alumni executives.
He also challenged them not to relent in their efforts at making sure the association received its main desire.
The alumni are not an association of only one person, he said, while advising them to work as a team in fulfilling their dreams.
The reason of forming the ChildFund alumni association was mainly to give back support to the ChildFund to pay back their efforts, Cham explained.
"ChildFund has since its establishment change entirely lives of many needy and deprive children and most them today are doing extremely well at their various working places.''
Read Other Articles In Article (Archive)