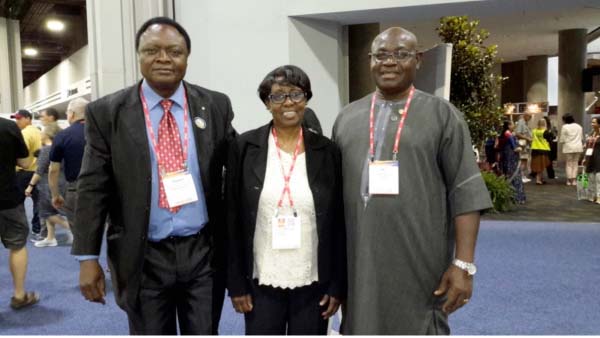 Rotarian delegates from The Gambia headed by Rotarian Aki Allen recently returned from USA for a Rotarian annual conference, organised by Rotary international club.

The conference which took place from 9 to 14 July 2017 was held at Atlanta in the USA.
The delegates' club representatives from The Gambia included chartered president of Rotary Club of Brusubi/Serekunda, Dr Kalala, elected Rotarian district governor, Aki Allen, immediate past assistant district governor Saffiatou Manneh and five members of Rotary Club of Banjul.
The delegation was headed by the elected Rotarian district governor Aki Allen, and at the end of the conference, the chartered president of Rotary Club of Brusubi/Serekunda, Dr Sapard Vincent de Paul Mozes T.N. Kalala, was appointed as Goodwill Ambassador for global peace and prosperity initiative.
Speaking after their return, the chartered president of Rotary Club of Brusubi/Serekunda, Dr Kalala, explained that the conference attracted participants from various Rotarian clubs across the continents.
He added that the conference was part of Rotary Club's International annual meeting to discuss issues of concern such as disease prevention, water and sanitation, community development, basic education among others.
According to Ambassador Kalala, the conference takes on a rotational basis among eligible countries.
He said the meeting was a platform whereby all Rotarians meet and determine the policy and what should be done to plough back to communities.
Mr Kalala further added that this year rotary international raised funds to end polio, adding that ending polio now is the slogan for rotary international.
He cited that there are countries such as Nigeria and Afghanistan who have problem of polio and they want to end polio in those countries.
He said this year's theme was rotary making a difference and the theme needed to be implemented to the letter.
He expressed total appreciation about his new appointment as the Ambassador for global peace and prosperity initiatives for The Gambia.
He further expressed appreciation and praised the Almighty Allah for the title bestowed on him, adding that he was delighted to be part of global peace and prosperity Ambassadorial work.
He assured of his club members that he would live up to expectation and would continue to guide them in a positive way to achieve their desire goals.
He also urged all Rotarians to support the elected district governor Aki Allen especially for being the first Gambian to be nominated to that high position.
He said Allen's nomination was a big pride to the people of the country as Allen's good record would continue to remain in the history of the country.
Read Other Articles In Article (Archive)