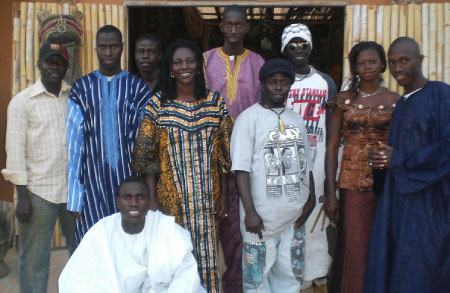 Gambian musicians, music promoters and music producers are making all efforts to take Gambia music and musicians to the zenith in the musical world.
Among those music experts and groups is Mama Africa Band, which is set to promote The Gambia internationally as well as to strengthen the country's culture.
Speaking recently in an interview with Entertainment, Sulayman Jobarteh, leader of Mama Africa band in Batokunku, said they are now busy working on new plans such as recording as well as embarking on a tour to promote the band.
"This band is different from other bands," he said, adding that the band plays different types of music, such as afro-manding, mbalax, salsa and reggae.
The band music expert revealed to Entertainment that Mama Africa Band was set up three years ago with the support of Isha Fofana, who made a lot of sacrifice to get the band to a standard musical group that is today promoting The Gambia, especially at the international arena.
"Our aim is to take The Gambia music to higher heights, when we have people like Isha Fofana," Jobarteh said.
He says the band is yet to release an album but has several singles to its credit, which are making waves in various radio stations in the country.
The band, according to the leader, is divided into three parts.
Jobarteh therefore calls on young musicians, especially those who are running music bands, to work hard to develop Gambian music, while urging the young ones who want to go in for the profession to train and make research so they could become good musicians.
Isha Fofana, proprietress of Mama Africa Museum and Art Centre, in her interactions with Entertainment's anchorman, said: "If you want to represent your country you have to represent your country in a good way because this is what will promote the country and tourism."
She added: "We need professionals who will go and represent the country internationally."
Isha also says Mama Africa band will stand the test of time and take Gambian music and culture to higher heights.
"I want to see this group tomorrow stand for the country as Youssour Ndour stands for Senegal," Isha said, while assuring the band that Mama Africa Museum will give them maximum support to operate as talented and professional musicians. 
Read Other Articles In Article (Archive)