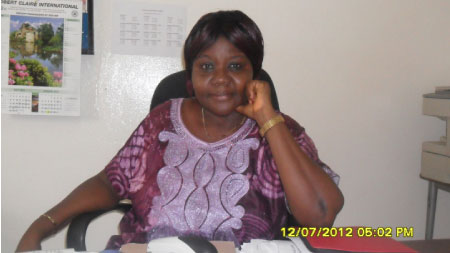 Welcome to another edition of Personality of the Week, the weekly column which profiles Gambians and non-Gambians alike whose contribution to the development of The Gambia should be celebrated.
In today's edition we bring you the profile of a school principal whose institution has for the past five years led the nation's schools in its results for the West Africa Senior Secondary School Certificate Examination (WASSCE). 
Mrs Harding was born in Sierra Leone in 1953 to the late Thomas C Deigh and Mrs Abioseh E Wilson-Deigh. Her father served as permanent secretary for the Ministry of Education under the regime of the late president of Sierra Leone, Siaka Stevens. Her mother also served as a civil servant under the same government.
Mrs Harding always had an interest in teaching. She duly completed a diploma in education and started teaching in Sierra Leone in 1979. Unfortunately, this came to an abrupt end in 1990 with the outbreak of war in her home country and she left with her daughter to live in Accra, Ghana.
She says: "After leaving Sierra Leone because of the war I went to Accra where I stayed to make sure that my daughter continued her education. Then, in August 1998, I went back to Sierra Leone to teach, when everything was fairly quiet again."
Unfortunately, war broke out again in 1999 and she fled with her daughter to The Gambia and has resided here ever since.
She says: "Life was so tough for me. I have never experienced so much violence. You could hardly sleep at night because of the shooting. It became too much for me and my daughter who was still quite young back then."
Mrs Harding credits her education as having helped her survive such difficult circumstances. She says that her background in teaching assured her that if she left her home country, she would be able to find work and survive.
Secret behind her school's success
This hunch has certainly proved true as she is now the principle of the successful Gambia Methodist Academy.
However, she is keen to emphasise that she cannot take all the credit.
She says: "I have many links which have helped this school to grow. I try to make sure that I recruit experienced teaching staff because this is of paramount importance.
However, as head of this institution it is also my responsibility to make sure that they deliver and they do the work that they are all paid to do."
"I am always pleased to say that I have good teachers who know their responsibilities, and they are eager to see the children succeed. If the children do well the praises do not go to them alone, (the teachers) also have a share in it."
Mrs Harding credits her students for being hard working and willing to learn. She says: "We also have a good set of students who appreciate the important of education ... (The teachers) just apply the pressure and push them a bit and then we get the positive results."
She also thanks the parents of students for the support they give to her school. She says the school is blessed with a very dynamic Parents Teacher's Association which has provided it with facilities such as a generator and a school canteen.     
Student enrolment
The school does not employ any special selection criteria for its students. Candidates are given an entrance examination based on what they should have learned at Lower Basic School.
Gambia Methodist Academy also has a feeder school, the Methodist Preparatory Lower Basic School in Banjul, whose students are enrolled at the academy based on their academic performance and without having to sit the entrance examination.
Mrs Harding says: "We try to make sure that by the time they get to grade seven, students from Methodist Preparatory Lower Basic school are able to do basic mathematics, write a good essay in English, are able to comprehend the language and are ready for schooling in general."
Improvements in credit pass rates
The Gambia Methodist Academy's credit pass rate increases every year. Mrs Harding uses this success to spur the other students on to higher achievements. She says: "Every year when we receive the results, we analysis them and display them so that the candidates themselves can see them. We also use the success of the past classes to challenge the others…to do better."
Mrs Harding is pleased with her students because they take up the challenge and every year they improve. Last year two of her candidates got 9 as in total, some of the best results in the country.
Mrs Harding believes education is a life-long gift. She says: "In this present generation it is education that counts, not money, not parents who are rich or wealthy. You have to be educated; you have to try to achieve whatever goal you have set for yourself. Once you have done that, you can be assured of a successful life."
Professional work history
-           1958 to 1965: Attended Freetown Secondary School for Girls, Junior
-           1965 to 1971: Attended Freetown Senior Secondary School for Girls
-           1973 to 1978: Attended Fouray Bay College and graduated with a BA (Hons) in English Language and Literature
-           1979: Attended Fouray Bay College and graduated with a Diploma in Education
-           1979 to 1990: Taught English Language and Literature at Freetown Senior Secondary School for Girls
-           1990: Attended Fouray Bay College and graduated with a Certificate in Educational Administration
-           1990 to 1999: Lecturer at Milton Margai Teacher's college, Sierra Leone
-           1999: Taught at Marina International School, in Bakau for five months
-           1999 to 2004: Taught English Language and Literature at Gambia Methodist Academy
-           2004 to 2008: Vice Principal Gambia Methodist Academy
-           2008 to present: Principal Gambia Methodist Academy
Read Other Articles In Article (Archive)