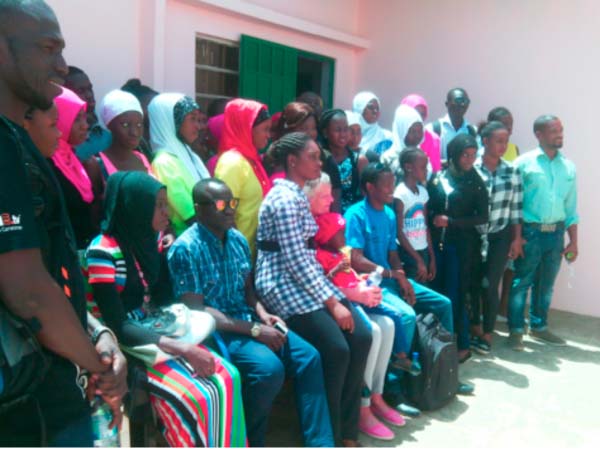 Lamin Institute of Professional Studies (LIPS) on Saturday organised a daylong workshop to sensitise students on illegal migration.

Speaking in an interview with The Point after the workshop, Princess Osagie, director of LIPS, said the sensitisation workshop was meant for students to discourage the youth from going through the 'back way' to Europe, to engage themselves in business activities in the country.
"We offer courses like business, marketing, travel and tourism, computer and information technology, and we also train students in English language proficiency, whereby students get to improve their English, and we also do entrepreneur courses so that students can be empowered when they graduate."
Ms Osagie noted that students need to know that going through the illegal way is not right, because many people lose their lives.
They also told them that in The Gambia, there are many opportunities for them to have a decent living, instead of going to Europe through the back way.
Nico Hollander, a pastor from Netherlands and a presenter at the training workshop, said his mission in The Gambia is to do something for youth empowerment.
He added that the programme is to inform the young people that there are better ways than the back way, and that there are lots of possibilities for young people to tap on.
People have to develop themselves so that they could have a better future, he continued, adding that his mission is to empower youths.
He is also working with young Africans, as well as the Association of Dutch NGOS in the field of youth empowerment.
Lamin. F. Ceesay, programme coordinator/trainer at Yep Africa, in his presentation, said they believe in empowering the youths, which means creating an enabling environment under which young people could act on their own behalf rather than on the direction of others.
The Yep Africa director further informed the participants that its need a great realistic that any young person living his destination to an-none destiny is due to factors that any problem you see there is a root cause.
"I always challenge people that before you talk about the problem you first need to look at the root cause, and what are the root causes; and unless those root causes are addressed, then the problem will not be addressed."
Read Other Articles In Article (Archive)