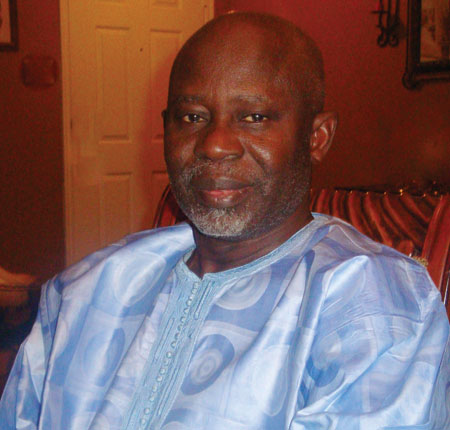 The leader of the United Democratic Party (UDP) has expressed his ambivalence about the presidential mercy extended to prisoners, saying the pardon to treason convicts is welcomed, but that of murderers, rapists and drug traffickers could have chilling effects.
Lawyer Ousainou Darboe said President Yahya Jammeh deserved commendation for exercising his prerogative of mercy by pardoning certain lawbreakers, but added that the move is not quite a surprise.
"I was not too surprised, because on Koriteh day (the feast to mark end of Ramadan) there was announcement for the release of some 85 prisoners. On that day, I said to myself since he regards 22nd July as the most significant day, he should release more, and that is what has happened," the leader of Gambia's biggest opposition party said in an exclusive interview with The Point newspaper on Saturday at his residence in Kotu.
"What surprised me is the pardoning of those convicted of drug trafficking, rape and murder," he stated.
Lawyer Darboe said he accepted and welcomed the release of those convicted of treason, for "these are people found guilty of political offences" not the real criminals.
"The way he himself came to power was through coup, it was only endorsed because it succeeded. So pardoning those convicted of treason is very welcomed," he said.
In his address during the 21st year anniversary celebration of the July 22nd Revolution, the Gambian leader said he has pardoned all those convicted of treason from 1994 to 2013.
Those convicted for murder, possession or trafficking of cannabis as well as cocaine and other hard drugs, and rapist (who raped those 20 years and above) are all pardoned if they are not repeat offenders, and were convicted in 2013 and before.
Overbroad
Lawyer Darboe has a bone to pick with President Jammeh for "over broadening" his prerogative of mercy, by pardoning convicted drug traffickers, rapists and murderers.
He said: "We are combating the menace of drug and, in that vein, The Gambia just hosted the Russia-Africa summit on drugs. All that is geared towards curbing trafficking in drugs, but paradoxically Jammeh is softening his stance on drug trafficking.
"This would be an encouragement for drug traffickers to come to The Gambia, knowing that if they are unlucky and caught they could be pardoned by the President.
"For rapists, personally I believe that women's body is so sanctified that anyone who violates them in anyway, and is found guilty should serve the full force of the law. If anyone has emotions to satisfy, why not get married as there are so many women out there, rather than force yourself on someone."
The UDP leader said when the President took some hard stance on drugs previously he had commended him (Jammeh) for that.
"I said that was a stance that we support, and were ready to cooperate with the government which he (Jammeh) leads to combat the drug menace," he added.
Lawyer Darboe said it is because of his abhorrence of drugs and rape; that was why he does not defend anybody charged with any crime related to such vices.
"I don't also defend anybody charged with murder - that does not mean I don't defend any other killings such as manslaughter, which is different from murder," he said.
"I think life is so precious for one to have mercy on people who take the lives of others willingly, murder."
Reconciliation within
The UDP leader's analysis and reflection over the treason convicts' release is that, in his view, the pardoning revealed "some reconciliation within his (Jammeh's) own group of people".
Darboe noted that some of the treason convicts are "hard core APRC supporters"; people who had done a lot for President Jammeh between 1994 until the day they were removed from office.
"But somehow these people ran foul, according to the findings of the judges, and were handed sentences. Personally, I have reservations about whether some of them actually took part in the offences that were considered treasonable," he said.
"I don't want to mention names, but people know them. Some of them may have now realised that they ought not to do some of the things they there were doing; they should have just kept calm and not be overzealous," he added.
National reconciliation?
The UPD leader said if the pardon is truly and really aimed at national reconciliation, then the first persons to be pardoned should have been people from the other side of the political divide. Even though there are UDP stalwarts in custody, the pardon does not cover them.
He said: "I would have thought the first persons to be released, if it was a true reconciliation – national reconciliation – should have been Amadou Sanneh (UDP treasurer) because he was a victim of political persecution.Sambou Fatty and Alagie Fatty (all UDP loyalists) should have been released.
"The crime these people were convicted of is far from treason; it is not even near to treason, but treason convicts were pardoned, while they were not.
"If it were me, I would start with my opponents and I would not ask them to go on the television or accept anybody to put them on the TV to sing my praises.
"In the prerogative of mercy, there should not be reciprocity of praises. In fact, putting people on the TV to sing the President's praises tends to undermine the gesture and give it another motive."
Besides, Lawyer Darboe said, the release of the family members of those allegedly involved in the 30 December attack at the State House in Banjul is not pardoning, because the prolonged detention of those people in the first place was illegal.
"May be they have realised the unconstitutionality of detaining these people, and now said 'let's release them and say we are pardoning them'," he added.
Read Other Articles In Article (Archive)