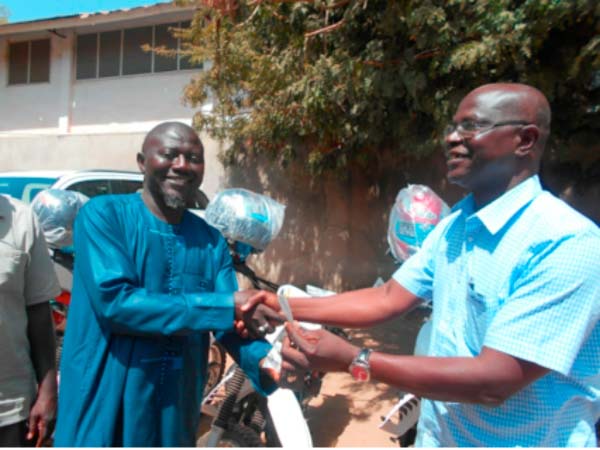 Agricultural Value Change Development Project (AVCDP) under the Central Project Coordinating Unit (CPCU) of the Ministry of agriculture Thursday handed over new vehicles and motorcycles to its implementing partners.

They included eight motorbikes, a double pickup vehicle and one station wagon which were procured by the AVCDP.
The implementing partners were the GLMA, which was given one motorbike; department of Livestock Services received two motorbikes, while the remaining items were given to the field staff of the department of Agriculture.
Speaking at the handing over ceremony, Famara Bully Sanyang, project director AVCDP, said it is a new project within the ministry of Agriculture.
The AVCDP is a five-year project for development of the rice value chain and livestock, which includes all ruminants and poultry, predominantly in the Upper River Region.
According to Dr Sanyang, ACVDP is funded by the African Development Bank and was designed for five years, starting from 2016.
This was the first package of materials for handing to the main implementing partners, and there would be more to come in the future to help them to work directly with the farmers.
"It is also part of the project activities to buy rice production equipment such as power tillers and tractors, and also to develop poultry schemes, small ruminant houses, and many more to come as stipulated in the project document."
The purchase of the vehicles and bikes was part of the procurement plans for the implementation of the project.
CPCU coordinator Momodou Mbye Jabang said the ministry of Agriculture and the CPCU, in particular, are proud to be associated with the new vision for development of the agricultural sector.
It was the Gambian farmers that put up this new government in a bid to respond to their clarion call, he added.
Providing means of mobility by the CPCU and AVCDP was one way of promoting these two sub-sectors, in particular the rice value chain which is going to develop five hundred hectares of rice land in the URR, he continued.
Mr Jabang challenged the beneficiaries, reminding them that where much is given, much is expected; while he urged them to deliver as expected to attain the project objectives with diligence and efficiency.
Read Other Articles In Article (Archive)