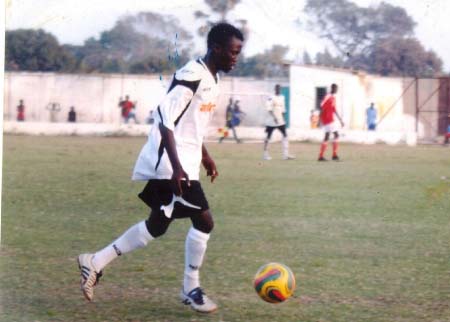 Former Africell Saint Matty sensational young forward Fallou Ngum is making a huge mark in the country's football at the youth category.
The 16-year-old starlet, who can also play in both wings, continued to be a revelation for current club side Magadan, one of the most outstanding Nawettan teams in Bakau.
His individual brilliance is considered to be the driving force behind the recent success of the Bakau side and did more than enough to guide the team to the double finals as the club heroically broke its way into this year's league and knockout finals.
Having missed the chance of celebrating the league title following the club's 1-nil defeat to Luniburg in a crucial league final one month ago, Magadan are setting their sights firmly on capitalizing on the prospects of claiming their first ever competitive accolade as they set for another final meeting against Bantankoto in the knockout, which is still pending.
Following two successful weeks of trial with Gifts Academy, Fallou, whose football career took him to Julangel and Africell Saint Matty in the GFA first division in 2009, eventually caught the eyes of Gifts authorities and was selected as part of the Gifts team that underwent a successful Norway cup competition held in Oslo in 2005.
He was also part of the same Norway team that took part in a similar international championship in Oslo the following year.
During that competition, the promising attacker was honoured with a leadership role after he was named the captain of the team and eventually guided them to runners-up finish in 2006.
The Gambia returned to Banjul with medals in recognition of their brilliant performance at the end of the campaign.
Fallou (aka Tugay), who has now developed into a key figure with Magadan, was spotted by Bakau first division team Africell Saint Matty from a second-tier league club Ham Ham during the FA Cup competition several years ago.
He has since forged a great reputation as one of the brightest prospects in Gambian football.
The promising starlet has recently been linked with a trial with Al-Markhiya Sports Club in Qatari second-tier league together with Famara Jobe, the younger brother of Gambian international defender Momodou Futty Danso.
Read Other Articles In Article (Archive)