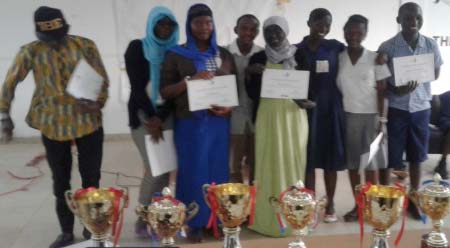 Lend a Hand Society (LaHS), a registered Gambian youth NGO, on Saturday organised interschool debate, quick reaction thinking (QRT) and quiz competition among five upper basic schools.
The schools that participated were Gambia Methodist Academy, St Therese, Ndows Comprehensive, July 22nd Academy, and Bakau Newtown Upper Basic School.
The event, the first of its kind organised by LaHS, was held at the UTG Law Faculty auditorium in Kanifing.
St Therese won the QRT, Gambia Methodist Academy emerged winner of the quiz competition while July 22nd Academy won the debate and it was also crowned the overall winning school.
In an interview with The Point newspaper, Francis Abdul Malik Mendy aka XYML, former national coordinator of LaHS, said the organisation has been in existence for more than two decades.
"Since inception, the organisation has been involved in so many good things towards the development of young people by helping to improve their skills, confidence and self-esteem," he said.
"I call LaHS my university because this is where I learned almost everything that I am applying to my work now; I am known to be a media guy and it's LaHS that exposed me to all kinds of training in and outside of the country where I got the experience that I am using in my life right now.
"I can remember my first exposure to computer was at LaHS because back then, we had a lot of computers and it was there that I started as a graphic designer.I am so grateful to LaHS because of the impact it has in my life and the lives of many other people out there."
XYML rose through the ranks from LaHS volunteer to become the national coordinator of the organisation.
LaHS aims to develop student sponsorship programmes to support needy students, encourage young people to develop self-esteem and have positive outlook in life.Young people are also thought such things as time-keeping, self-reliance, tolerance and respect for themselves and others around them.
Read Other Articles In Article (Archive)