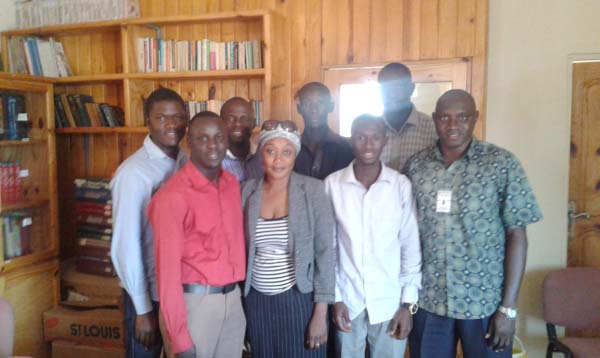 Officials of The Legacy, a youth-led organisation, on 11 May 2016, met the management of Jammeh Foundation for Peace Hospital (JFPH) in Bundung as the youth organisation prepares for the first phase of its blood donation project.
The meeting was meant to discuss the blood donation, slated for Saturday, 21 May 2016, and other areas where the organisation can team-up with the hospital in enhancing healthcare service delivery.
Speaking at the meeting, executive director of The Legacy, Saikou Suwareh Jabai, said the organisation is conscious of the fact that health is the genesis of human endeavour.
He noted that no nation can meaningfully develop in the absence of vibrant health system to effectively address the health needs of people.
Director Jabai, who led the delegation, said: "The Legacy Blood Championship is a service-motivated project circle that is devoted to promoting the participation of young people in the area of blood donation.
"The project will not only increase public awareness on the importance of blood donation but it will also enhance the welfare of blood donors and seekers in The Gambia."
While thanking the management of the hospital for accepting to partner with his organisation, Mr Jabai called on the public to join the blood championship and donate blood.
The chief executive officer of the hospital, Kebba Manneh (1), said The Legacy's intervention "is timely", adding that the organisation's drive to encourage the culture of youth blood donation is a move in the right direction.
He noted that Gambians hardly voluntarily donate blood to hospitals, saying this situation needs to change as blood is crucial in the life of every individual.
The administrator of the hospital, Kebba Manneh (2), expressed delight about The Legacy Blood Donation Championship.
He said blood donation championship is "such a wonderful project", adding that JFPH is coming up with a new operation theater where blood is needed at all times.
The administrator said the blood donation will enhance the service delivery of the hospital as it will "enormously reduce maternal death".
"Making blood available at the bank is a key strategy in reducing maternal mortality in The Gambia as the leading cause of maternal mortality is bleeding," Mr Manneh said."If a patient urgently needs blood and it is not available at the bank, then the likelihood of that patient dying is very high."
Also speaking at the meeting was Ebrima Jallow, information and communications officer of The Legacy, said anyone who wishes to join the organisation to donate blood can reach them through (mobile) 3530598 or legacygambia@gmail.com.
Read Other Articles In Article (Archive)