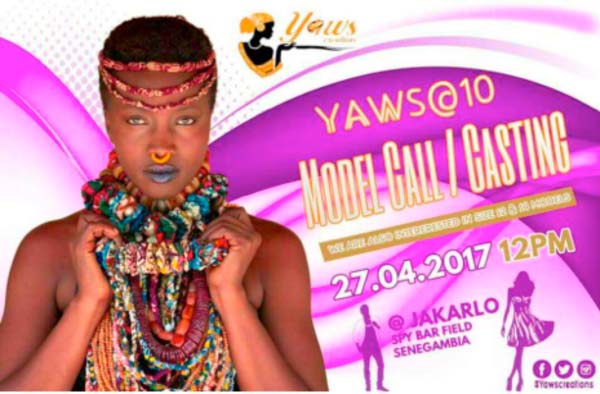 Awa Konateh, CEO of Yaws Creation, is a young lady involved in the fashion industry since 2007, who inspires lifestyles in different ways and is on the verge of celebrating her 10th anniversary in business this year.

Yaws Creation is geared towards empowering young girls with talent, especially young ladies with a talent for modeling.
According to her, the aim of the 27th April model call/casting, which was held at the Jakarlo entertainment ground, was to select models that would be featured on the events of July 7th and 8th 2017.
She said this year it would be different as fashion designers, both local and international, will grace the occasion to make it a memorable one.
The theme for this year's celebration is "breast cancer awareness" as a result of her sister, who was supportive and dear to her and as such, succumbing to the disease.
She said that the theme will touch many lives as one might be affected directly or indirectly by the disease.
She explained that she grew up with her mum and her dad who is a businessman and that is where she drew her inspiration from to begin a modelling agency from between 2009 and 2011.
She noted that they are targeting 50 models and out of the 50 models, they are going to select ushers and live models. Catwalk models will be the ones wearing designer outfits and the ushers will be welcoming the guests.
Asked about the challenges in modeling, Konateh said it's very difficult to have sustainable tailors and financials.
Benjai Roberts, who has five years experience in modelling, said he got inspiration from a talented footballer.
Asked as to why he ventured into modeling, he said, he has the talent, attitude, passion and motivation and as such he believes he would make a great model.
He urged Gambians to support modeling because there are talented young people in the modeling industry who can make a great impact in the development of the country.
Maimuna Jobe, a model with 7 years experience, said she built an interest in modeling since early childhood and she is out to make a difference in The Gambia.
She also spoke of the challenges in modeling, which, she said, could be frustrating sometimes because "Gambians don't promote or support young people in showcasing their talents".
With regards to the theme, Jobe said she has a great role to play in advocating for awareness of the fight against breast cancer.
Read Other Articles In Article (Archive)