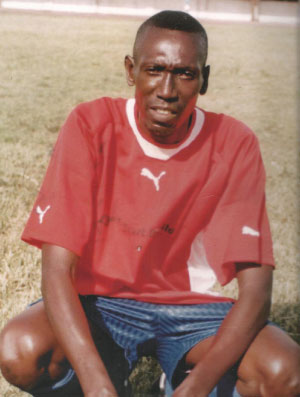 GamGass beat Die Ten 5-3 on penalties to secure all three points in  the opening match of  a memorial tournament on Sunday staged in memory of late veteran footballer, Pa Ousman Ndow, a former national team player who lived at Lancaster Street in Banjul.
The two Lancaster Street teams GamGas and Die Ten drew goalless before the game headed for penalties.  The sides were said to be the last teams the late Pa Ndow coached before his demise last year.
Eight teams: DieTen, Gam Gass, Veterans, Lancaster, Jeshwang, Kerr Gi, Gloucester and Lancaster are the contenders in the memorial tournament to keep alive the memory of Pa Ndow.
Njock Secka, who is based in the United States in Atlanta, Georgia, together with compatriots Kara Ceesay and Malick Senghore, are sponsors in this venture as a way of honouring a man who has played ten international matches for The Gambia, and has won a series of trophies with his former club Wallidan, where he played in the 70s.
Njock Secka who spoke to Pointsport ahead of the tournament described late Pa Ndow as someone who did much for football.
He said for the past years that he was visiting The Gambia, the Pa Ndow was always organizing tournaments, and they give him support.
"Three years ago, Pa Ndow wanted to organize one, but due to my short trip it could not go on and I made a promise to help when I come back. He passed away two years later. So I'm here to fulfill a promise," he added.
"I have played football including our young brothers, and we believe that this is what we can do to keep his name alive, and intend to make it bigger."
Friends and family members attended the opening match.
Secka said the late Pa Ndow was an exemplary figure, as he was regarded as a father, friend and teacher to not only the young footballers who passed through him.
"I want to call on friends and family members from Lancaster or those living outside Gambia to support the tournament," he said.
He added that anyone who wishes to help can contact Babou Senghore on 8860184, Omar Ndow, Modou Jarju and Ous.
Njock Secka, Kara Ceesay and Malick Senghore could also be contacted in the US for sponsorship.
Late Ndow who was born in the 50s was part of the Gambian team that won Cape Verde 2-1 in the 1985 Zone II, and the Gambian team that lost 4-1 to Denmark in 1977.
After Sunday's opening the matches of the memorial tournament will be suspended until after the Nawettan in December, when it will resume.
Read Other Articles In Article (Archive)