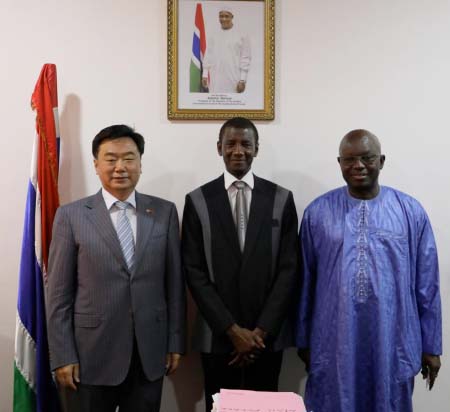 The Chinese ambassador, His Excellency Ma Jianchun on 20 February 2020 met with Hon. Badara Joof, the minister of Higher Education, Research, Science and Technology.

They talked about the developments of China's combat against COVID-19 outbreak, as well as safeguarding the health of Gambian students living in China during these trying times.
Ambassador Ma briefed Minister Joof on the current distribution of Gambian students in China, and the multifaceted measures taken by the Chinese government, schools, and residential communities to prevent them from infection and other assistance rendered for their daily needs. He stressed that the Chinese government considered the health and safety of all foreigners in China equally important as that of Chinese citizens, and no Gambian national in China has been infected so far. Ambassador Ma took Huazhong University of Science and Technology (HUST) in Wuhan as an example, pointing out that measures taken by the school included frequent disinfection in campus especially in residential areas, distributing health necessities to students, delivering free meals three times per day to students' dormitories, providing shopping and delivery assistance, and so on. He said that while the COVID-19 outbreak inevitably made life less easy, the Chinese side would responsibly do its best to safeguard health and safety of all Gambian students living in China, and properly help minimize inconvenience of their life in accordance with law and regulations.
Minister Joof on his part, appreciated the comprehensive measures taken by the Chinese government and people to contain the COVID-19 outbreak, commending China's efforts in mobilising people and resources across the whole nation to prevent and control the disease. He also noted the positive developments of the combat against the outbreak seen in recent two weeks, expressing confidence that under the leadership of H.E. President Xi Jinping, China would soon be able to win the battle. Hon. Joof thanked Ambassador Ma for updating him on relevant information of Gambian students in China and all the measures taken to ensure their safety. He expressed readiness of his ministry in further coordinating and cooperating with the Chinese Embassy to exchange information on Gambian students' future updates, and to help safeguard their health.
Read Other Articles In Article (Archive)