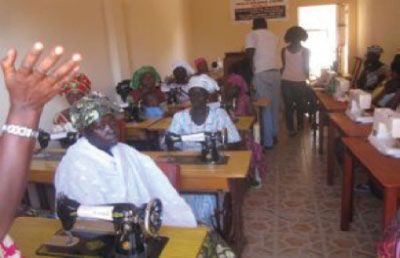 Concept Unit Foundation (CUF) on Monday 18th 2013 received materials support from the Canadian Embassy in Dakar, meant to provide life skill training for women and girls of Kotu Quarry in the Kanifing Municipality.
The materials, which were provided by the Canadian Fund from the Canadian Embassy in Dakar included 26 brand new sewing machines, meant to be used to teach women in tailoring skills.
At the official handing over ceremony, Mr. Chiek Thiam, Coordinator of the Canada Fund for Local Initiatives, said "this came as a result of the successful implementation of previous Canada Funded project, by Concept Unit Foundation in the Gambia."
According to Mr. Thiam, CUF and the Canadian Embassy in Dakar are partners in supporting local initiative in The Gambia and for the past years they have been supporting the activities/projects of CUF in The Gambia.
Mr. Thiam further revealed that each year, the embassy calls for proposals from NGOs, CSOs and youths oriented groups to apply for a support to local programmes and initiatives, out of which CUF has been lucky to be awarded for the project. 
He urged the beneficiaries to make the best use of the machines and create a scheme to maintain the machines for the purpose of durability.
He further urged the beneficiaries to remain united and steadfast in their quest to acquire the required skills and knowledge to be able to sustain their living conditions and their families. While stating that development is the key, he said, it cannot be achieved in the absence of collaboration and unity.
For his part, Mr. Eze Joseph, said CUF is a non-profit making local NGO operating in The Gambia that aims to empower women and girls in skills acquisition and for the youths in the area of sport.
He said the Canadian Embassy had provided the machines, while CUF takes care of other expenses, such as teachers and equipment.
According to him, measures are being put in place to sustain the project by using some of the proceeds accrued from the centre to maintain the machines.
He said apart from that, CUF has initiated an internet café and a small mobile shop as a support service to CUF's main project.
Ms Ida Mboob Joseph, the Project Coordinator spoke at length on the importance of skills acquisition.
While stating that providing women with marketable skills means fighting abject poverty, he said, "CUF will train women and girls on tailoring skills and upon graduation they will be given a startup capital on loan to establish their own business to eradicate poverty."
Mrs. Bintou Sanneh, who spoke on behalf of the beneficiaries, said they are grateful to CUF and its partners, for what she described as their timely intervention.
Ebrima Bah, acting alkali of the community hailed CUF and their partners for choosing his community out of the whole lots.
Read Other Articles In Article (Archive)