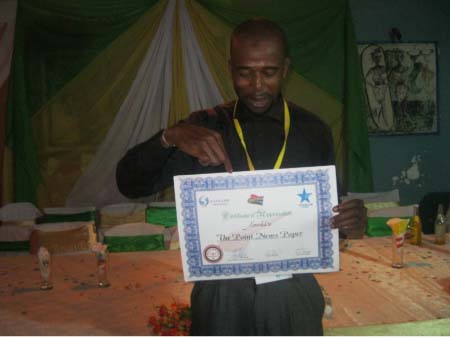 Hundreds of people including kora musicians, music lovers and journalists recently gathered at Jokor Bar and Restaurant at Westfield to attend the kora festival organised by Star FM Radio.
The festival was held for kora musicians to showcase their talents as well as to receive awards, including media houses in the country, for their great contribution to the Gambian music.
Speaking to journalists shortly after receiving the awards, Ansu Jammeh, who represented the Gambian leader, said the festival is a good initiative for people to cherish their culture, adding that President Yahya Jammeh is the number one promoter of culture in The Gambia as he is an advocate for cultural activities in the country.
President Jammeh, he noted, is assisting a lot of artistes in The Gambia, which has made the Gambian music industry a growing sector.
Mr Jammeh therefore urged the organizers to continue the momentum for people to recognize cultural instruments like the kora.
Muhammed Saho, leading singer for Wuli Band, also said at the event that the kora festival is a step in the right direction as it encourages people to treasure, appreciate and embrace their culture.
Kora is an African made instrument that needs to be known and appreciated by Africans both at home and abroad.
The media houses that received awards at the event are The Point Newspaper, Foroyaa Newspaper, Daily Observer Newspaper, The Voice Newspaper, Star FM Radio and GRTS.
Read Other Articles In Article (Archive)