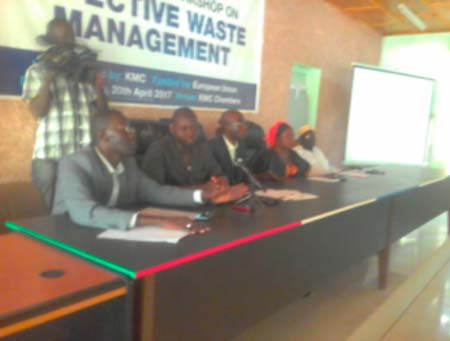 The Kanifing Municipal Council on Thursday held a daylong workshop geared towards raising the awareness of the participants on waste management.

Speaking on the occasion, Mutarr Jammeh, programme analyst at NAOSU, said according to UN Habitat report of 2010, more than 3.5 billion people around the world receive no formal waste collection service.
He said the impacts of these are manifold such as 40 per cent of waste dumped in uncontrolled open dumps, and a further 40 per cent of burnt waste are burned in the open fires, leading to significant public health risks.
Mr Jammeh said The Gambia is no exception with growing population, growing urbanisation and increasing consumer lifestyles increasing the volume and changing the nature of the waste produced.
"This is particularly acute in KMC, BCC and BAC as these are the local government areas with the largest population and urbanization in the country," he said.
"Furthermore, waste management has become a burden to communities living within the coastal areas, particularly in the urban and peri-urban areas. This is compounded by the increasing social-economic and demographic pressure on the coastal areas of The Gambia."
He said volumes and variety of waste including such as industrial waste,clinical waste, social waste, and electronic waste have become a threat to social and environmental health within the coastal areas due to improper waste disposal practices.
KMC protocol director Salama Njie said during the rainy season, a large amount of waste drains into small waste bodies and finally into the coast resulting in the pollution of marine, habitat and ecosystem.
Read Other Articles In Article (Archive)