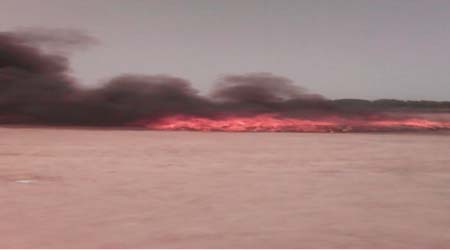 The Drug Law Enforcement Agency (DLEAG) on Thursday destroyed 1tonne, 940kg, 500g of drugs at its destruction site in Old Cape Town Road.

Abdoulie Gassama, director general of DLEAG, said the drug destruction is a key calendar event of the DLEAG and it is meant to publicly destroy seized drugs following successful prosecution in the narcotic courts.
He affirmed that drug seized are not recycled in the market but destroyed.
The DLEAG is the youngest law enforcement agency in The Gambia, established in 2003 by an Act of the National Assembly and charged with the responsibility of enforcing all drug laws and regulations.
The institution also collaborates with partners locally and internationally in the spirit of fighting illicit drug trafficking and abuse, money laundry, terrorism and other forms of organised crimes.
"TheDLEAG will strengthen actions and cooperation to achieve the goal of an international society free of drug trafficking and abuse," Mr Gassama said. "Fighting drugs are complex challenges and it shall remain a war worth fighting."
In the first half of 2017, the agency registered a record seizure of large amount of various types of drugs, 503g 266g 385mg of cannabis, 495g 161mg of Hashish, 50g 909mg of cocaine, 24tablets ofdiazepam, 57 tablets of bromazepam and 10 tablets of lormetazepam.
The DLEAG director general said the world drug problem continues to constitute a serious threat to public health, the safety and wellbeing of humanity, and underminessocio-economic and political stability and sustainable development.
"For The Gambia to be safe from drug,there should be combined efforts of all law enforcement agencies, government, institutions, civil society, media, and the general public to report drug dealers,as harmful use of illicit drugs exposes non-users to injury and death."
Mai Fatty, minister of the interior,said the number of youth indulging in drug abuse is on the increase and as a result, the youth are increasing becoming vulnerable to health problem, crime and other forms of violentbehaviours.
He said it is evident that drugs have negative impacts on the lives of youth, so it is important that civil society organisationsembark on mass sensitisation activities to challenge youth to take them out of drugs.
"It is time for us to say 'NO'to illicit drugs, it is time for us to work on the future and face the challenges with all ability and strength to prove to the world that we can win the war on drugs," he said.
One Ousman Saidy Bah said drugs would continue to cause serious destructionif the general public, stakeholders, the private sector and other relevant bodiesdo not come together to join the fight against the abuse of drugs.
"Today, the large number of cases faced by Tankatanka is due to the use of drugs and many youth are affected owing todropping out of school and other relatedvices," he said.
Read Other Articles In Article (Archive)