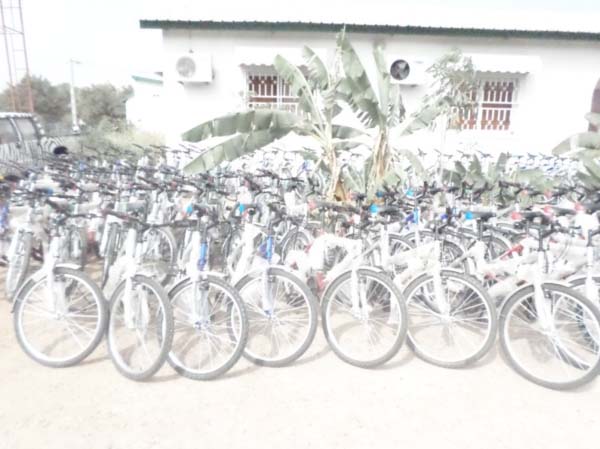 No fewer than 100 pedal bicycles were distributed by Kaira Suu Federation to its sponsored children in five communities within the federation's operation area in West Coast Region.
The donation was made possible thanks to ChildFund The Gambia and the presentation was held at the federation's head office in Jambanjelly.
The gesture, according to officials, was meant to facilitate school children's timely arrival to the school and lesson attendance.
Kebba Cham, Kaira Suu Federation manager, said the federation was founded in 2009 by five community associations in Kombo South namely, Tanjeh, Tujereng, Jambanjelly, Sifoe and Sanyang.
The federation aims to help deprived, excluded and vulnerable children in Kombo South to have the capacity and opportunities to improve their lives and become young adults, parents and leaders who bring lasting and positive change to their communities.
He said the donated bicycles would be used on rotational basis.
"This means those who received the bicycles today would use it for the duration of their schooling period in this area.When they completed, they need to hand over the bikes to their various community associations then it will be given to another student," Mr Cham said."Other terms and conditions would be discussed at their various community associations."
In addition to the donation of bicycles, the Early Child Development Mother's Club was also given an amount of D50,000 as a start-up capital for IGA to help sustain the nursery schools.
"This money would be given in installments to the Mother's Club executive as a revolving fund," he said.
Lamin B. Kujabi, Banyaka cluster monitor, on behalf of Regional Education Directorate, acknowledged Kaira Suu Federation's untiring efforts towards promoting education at all levels.
"Kaira Suu's strive towards achieving quality, relevance and accessible education shall ever remain indelible in the annals of this cluster and the region at large," he said.
Baba Bojang, programme manager from Regional Area Manager, hailed ChildFund for providing support to Kaira Suu to help school children improve on academic performance.
He said ChildFund is currently operating only in West Coast Region through its affiliates: Dinding Bantaba, Kaira Nyining, Kombo North, Eastern Foni, Samasang, and Kaira Suu Federation.
It provides strategic support to these organisations to implement their programmes and activities within their operational areas within WCR, Mr Bojang said.
Omar Jammeh, child and youth coordinator, said the donation of bicycles among the sponsored students from the five member communities is part of the annual strategic plan of the federation.
It is meant to support school children who live far away from their schools and had to travel on daily basis for their classes; such children sometimes missed lessons which affect their academic performance.
Mariama Jabang, speaking on behalf of the board chairperson, said with the provision of bicycles, the school children must take up their education seriously to be able to pass their examinations.
Ebrima Bojang, on behalf of the beneficiaries, commended Kaira Suu for another gesture, saying the federation has done a lot for students such as the provision of scholarships and clean water to schools.
Read Other Articles In Article (Archive)