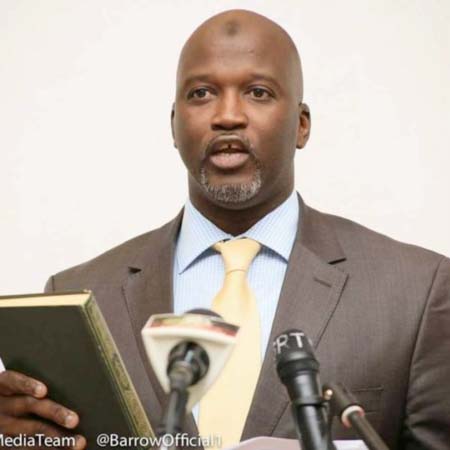 The Attorney General and Minister of Justice, Baboucarr Tambedou, has said he wants the death penalty abolished in The Gambia.

He said so on Thursday at a press conference held at the Justice ministry in Banjul.
Personally, he is an advocate for the abolition of death penalty in The Gambia, he added.
The Justice minister reiterated that the Justice ministry takes full responsibility for the error made in the process of amending the age limit in the constitution, carried out recently at the National Assembly.
"I was certainly aware, and I have taken full responsibility in terms of the error in the procedures, and I think we have closed that chapter. We are looking now to other interesting challenges in this country," he said in response to questions on the issue.
He added that no new cases on criminal charges will be handled by the Justice ministry, unless "they are thoroughly and comprehensively investigated and until the ministry of Justice is in a position to conduct this trials and only on the approval of the Cabinet."
He said they are preparing for victims under the former government, and when the truth and reconciliation commission is set up they will look at issues surrounding justice, "which will soon be done".
The ministry of Justice, in consultation with the Interior ministry, has established a 'criminal case' and detention review panel, to review ongoing criminal cases against current or former public officers or cases linked to political activities.
"The membership of the panel consists of lawyers from the Ministry of Justice, staff members from the Ministry of the Interior, a representative from the Gambia Police Force and the Gambia Prison Service. I have started receiving their recommendations on a rolling basis, and I will act based on this."
Foreign judges
Minister Tambedou also said The Gambia is not a xenophobic country, as Gambians do not hold anything against foreign judges.
However, after 52 years of Independence "the country has matured enough to be a country that is capable of producing its own judges to preside over its affairs in its own country."
He made it clear that where the country lacks capacity, expertise or experience in a particular area, "the country will be more than happy to welcome technical assistance from traditional friends and allies".
Read Other Articles In Article (Archive)