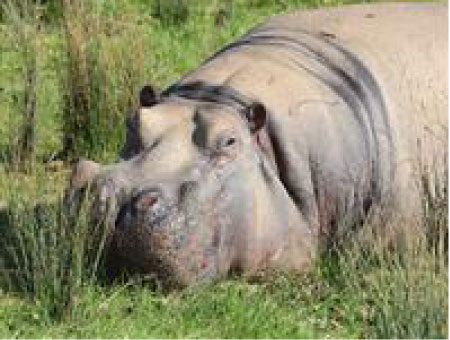 Hello and a warm welcome to another edition of Environment, your weekly column aimed at bringing environmental issues into the limelight.
In today's edition we examine the link between biodiversity and poverty and need for private sector involvement in natural resources management.
The Gambia is in the grips of a population explosion. World Bank data from 2011 indicates that the country is experiencing an annual population growth rate of 2.7%. High population growth is currently typical of sub-Saharan Africa, where high birth rates and declining mortality rates are partly responsible.
This is in contrast to countries in the global North which typically have much lower birth rates and are therefore experiencing lower population growth. The UK, for example, is currently experiencing annual population growth rates of just 0.7%.
This growth in population coupled with increasing urbanization and the demand for more farm lands and other land uses is exerting great pressure on the environment in developing countries, particularly in terms of energy consumption such as firewood, charcoal, furniture, food, water, shelter and roofing.
The effects of this pressure on natural resources are clearly evident in The Gambia. Demand for resources coupled with the impacts of climate change has led to floods, droughts, crop failure and rising temperatures, particularly in the northern parts of the country where there is limited forest cover due to logging.
This is disproportionally impacting the rural poor who are often highly dependent on the goods and services provided by biological diversity. Unfortunately, such environmental assets are frequently taken for granted, underpriced and over exploited.
Twenty years ago, the dominant view was that the only hope for breaking the destructive patterns of resource depletion was to reduce rural poverty and improve income levels. However, experience has shown that it is not as straightforward as this.
China, Indonesia and Brazil, for instance, have greatly reduced rural poverty while continuing to draw down their natural capital and doing little to avert environmental depletion.Natural resource consumption tends to increase with income, and better-off people are often the ones who benefit the most from natural resources. Reducing rural poverty by itself is therefore unlikely to avert environmental destruction.
Contemporary thinking on poverty and biodiversity acknowledges how the economic value of the environment can be perhaps be harnessed to help lift people from poverty. Social, environmental and economic capital could work together to create a new future.
Currently biodiversity is treated as an environmental issue and addressed at the national level by environment ministries. Maximizing the contribution of biodiversity to poverty reduction requires serious engagement by finance and planning ministries as much as by environment ministries.
More widespread application of economic concepts would provide much greater recognition of the importance of the ecosystem and the potential link between biodiversity and poverty alleviation.
Mainstreaming biodiversity requires better dialogue between environment and development communities at the national and international levels and better integration of national and international biodiversity and development agendas. It also requires vertical coordination and coherence between global and regional agreements, national policies and local implementation.
Without these kinds of approaches, biodiversity will continue to be depleted and its potential to act as a safety net for the poor, let alone to contribute to poverty reduction, will be in jeopardy.
The need for private sector involvement in natural resources management
The objective of any environmentally conscious government should be to create an enabling environment for private sector involvement in the conservation and management of natural resources.
The government of The Gambia through its wildlife agency, Department of Parks and Wildlife Management (DPWM), recognises the importance of private sector investment and local community participation in the conservation, and sustainable utilisation, of natural resources.
It is expected that once an enabling operating environment has been created in the identified protected areas, it will attract additional private sector investment in tourism related enterprises. When this happens, it is hoped that the government will be able to earn significant revenues to enable it to cover the costs of managing the nation's wildlife estate.
The DPWM recognises that private sector investment plays a critical role in the conservation of natural resources and the enhancement of the economic value of Gambia's wildlife. Therefore, wildlife ranching and farming should be properly promoted and regulated in order to enhance conservation and utilisation of wildlife on private and customary land, and to improve return to investors.
To this effect, DPWM is embarking on an ambitious program of developing management guidelines for private sector involvement in natural resources management. The guidelines are intended to promote and regulate all wildlife ranching and farming operations in The Gambia. It is hoped that through these guidelines, the DPWM will be able to promote the environmental tourism industry and contribute to the growth of the national economy.
The DPWM also hopes that wildlife ranching and farming operations as a form of conservation strategy will help by providing back up support in securing endangered species, lessening detrimental effects of the harvesting by taking off pressure from wild populations, providing seed banks for restocking depleted areas, as well as being a source of revenue, employment, food security and enhancing the economic value of wildlife species.
For your comments, suggestions and contributions please contact (00220) 6361340/ 7142236 or Email: bajgambia2011@yahoo.com
Read Other Articles In Article (Archive)