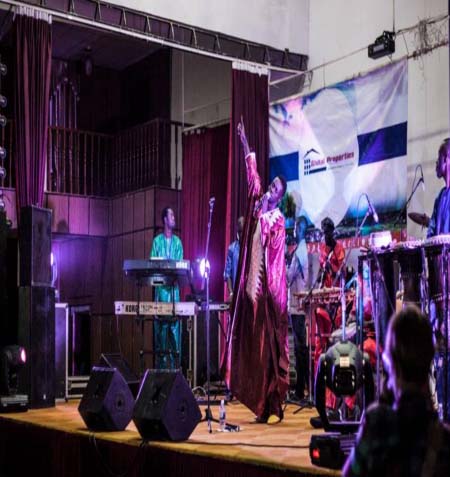 Joluv Arts Entertainment, on February 18 at the Independence Day, successfully presented in a grand style the debut international album of the country's singing sensation, Jali Madi Kanuteh, at Pencha Mii Hall in Paradise Suites Hotel.
The launching of the highly anticipated album was unarguably seen as a clear manifestation of Gambians' love and appreciation to what belongs to them as the spacey Pencha Mii was full to capacity.
Speaking shortly before the commencement of the gala, Jali Alagie Mbaye, who spoke on behalf of Jali Madi's joyous family, gave a brief account of Jali Madi's profile and family background, saying his parents were seasoned griots known in not only The Gambia but the sub-region as a whole.
He thanked Joluv Arts and the fans for making Jali Madi who he is while wishing him all the best in his musical endeavours.
Nearly all the big-name artistes, including Gee, T-Smallz, Manding Morry, Jalex, Singateh, Cyco, Jizzle, Big Faa, Sura Suso, Shirrifo Kanuteh, and others, performed to show love and support to their friend and colleague in the music business.
Artiste after artiste, all spoke at length about the sterling qualities of Jali Madi as a friend and a musician.
They wished him all the best of luck and attested that this is a step in the right direction.
Jali Madi Kanuteh, in an interview with the press, described the show in his own words as 'nice and successful', thanking the fans for their huge turnout.He expressed delight to the producer of the album, Joluv Arts Entertainment, the artistes, fans, and commended media houses for their coverage.
The CEO and Executive Producer of the 'Gambia' album, Saul Sowe, described the event as a great success and a mark of record.He thanked the President of The Gambia for his kind gesture, the sponsors for their support, the media and the tireless fans for contributing in one way or the other towards the making of the event, affirming Joluv Arts' stand in spotlighting Gambian talents.
"To the fans and the general public, we say thank you for making this memorable event a success," Saul Sowe concludes saying: "In no small measure, your collective support already musters a cream of commitment in us as we fasten our belts for more national developments through music, arts and culture."
Read Other Articles In Article (Archive)