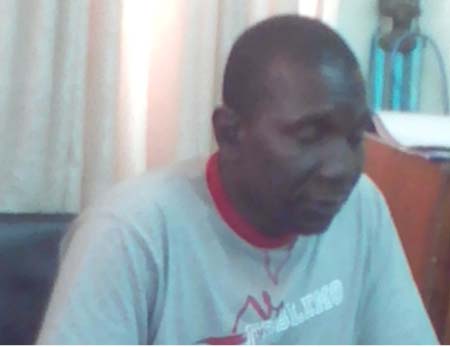 The Late Njaga Jagne's Brother, Malleh Jagne, has told journalists that his late brother's children are always asking him when their daddy is coming back, which is very sad and painful to bear.

He was speaking at a press briefing by stakeholders responsible for cases of disappearance and death held recently at the Police Headquarters in Banjul.
He said he last saw Njaga in November 2014 when he received a call that someone wanted to meet him at Westfield Junction. When he reached there, he found Njaga himself. He said they spoke and Njaga told him he had a busy schedule because he is newly married and was in the country to meet his in-laws.
He said that was the last time he saw him. He later learned that there was an incident and that foreign forces attacked State House and that Njaga was involved in the attack.
"I was not sure because Njaga was so quiet and I did not believe at first that he was involved. I had nowhere to go to find out because we all know how the situation was in those days and you don't just rush and ask around. I was also arrested and detained at the NIA just because he was my brother," he said.
He added that it had come to be that even if you were related to somebody that was alleged to have committed a crime you would also be arrested.
He said on behalf of all the victims they are beseeching the Government to acknowledge that they have suffered hard times that they cannot forget.
"As a brother I faced a lot of difficulties and torture at the NIA but today we have come to a point that all the dead bodies that we thought we would not see have been seen. We are appealing to the Government that when they are done with the bodies let them give them to us so that we can bury them in the right way, because I cried when the bodies were exhumed."
"The only way we can be healed is to see that the whole Gambia can remember them by erecting a monument for them. I went into exile for two years and my wife and two-year-old baby died. We have waited long enough and we want the Government to act as soon as possible," he narrated his ordeal.
Read Other Articles In Article (Archive)