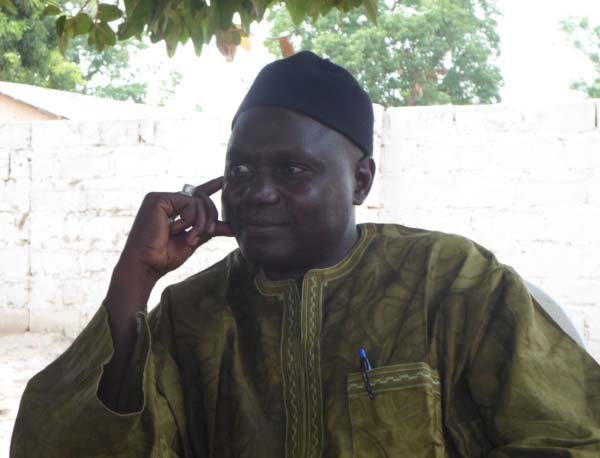 Seyfo Ebrima Jammeh, the Chief of Upper Badibou District, has said the establishment of community gardens, as an alternative livelihood, would help communities to increase their sense of community ownership and stewardship.
They initiative would also bring people together from a wide variety of backgrounds and lead to community-based efforts to deal with other social concerns.
Seyfo Jammeh was speaking recently in Illiasa in the North Bank Region during a monitoring field visit by experts and project officials of the NEA, implemented by UNDP/GEF Coastal Resilience project sites, which benefitted from the alternative livelihood component of the projects.
The four-year project was devised to enhance resilience of vulnerable coastal areas and communities to climate change as well as to reduce the country's vulnerability to sea level rise.
The alternative livelihood component of the UNDP/GEF Coastal Resilience project is striving to ease Climate stress in affected local coastal communities whose farmlands and rice fields are affected by the phenomenon of Climate Change.
The project coordinator, Dodou Trawally, led a team of experts from areas of Environmental Impact Assessment (EIA) and horticulture to some of the sites of the benefitting communities, where the construction of the perimeter fence of their gardens have started in earnest.
The communities visited were Bintang and Bondali-Tenda in the WCR, Missera in LRR, Illiassa and Touba-Kolong in NBR.
The District Chief revealed that such environmental projects foster the development of a community`s identity and spirit, whilst it also offers unique opportunities to teach youth about environmental sustainability and basic business principles.
He said it would also contribute towards the reduction of youth risking their lives taking the 'back way' to Europe.
"Community gardening is a healthy, inexpensive activity for youth that can bring them closer to nature, and allow them to interact with each other in a socially meaningful and physically productive way," Chief Jammeh pointed out.
He noted that Community gardens provide a significant source of food, income and access to nutritionally rich foods that may otherwise be unavailable to low-income families and individuals.
The traditional ruler revealed that it was an open secret that community gardeners and their families eat healthier vegetable and diets than non-gardening families.
He therefore called on the community of Illiasa to take ownership of the project and make sure it is jealously protected for a sustainable future.
The alkalo of Bintang village in the WCR applauded the gesture from the NEA and UNDP as a green technology move that would terminate hardship on the villager folk.
Ebrima Fatty, the Alkalo of Bondali-Tenda, assured the visitors that all the materials and equipment of the garden project sent to the village would be jealously guarded.
Read Other Articles In Article (Archive)