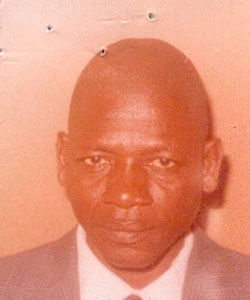 The Director of Media Agenda, Mr Madi Ceesay, on Sunday discussed the need for an all-African Union Government vis-à-vis relations with the rest of the world, especially the West. Mr Ceesay dwelt on the inherent advantages of a single government for the African continent, noting that it would accord the continent the necessary clout and independence to carry on its affairs.
"Who is there to oppose or frustrate us if we only have a cause to form an all-African Union Government? Can the industrialised nations do without our raw materials- or will they come running to us, as we have been running to them, for trade on equitable terms? What we lack today is courage and not wealth," the Director of Media Agenda remarked during a press conference marking the celebrations of the African Liberation Day at the Tango office in Kanifing on Sunday.
Mr. Ceesay lamented that everywhere in Africa economies are crumbling, treasuries are being strained, as African states become client states with dwindling capacities to stand alone.
He however stressed that there could not be any meaningful liberation until Africans are ready to take the economic and political destiny of Africa into their own hands.
He quoted an October 1965 statement by late Dr. Kwame Nkrumah in which he said: " A united Africa is destined to be a great force in world affairs. So the battle has begun and we cannot disengage until the wishes and aspirations of our people have been met." Mr. Ceesay expressed firm belief in the relevance of this statement, noting that it stands as valid today as it did some 43 years ago.
May 25th, he said, was set aside by African leaders for observation and self-examination.
Mr. Ceesay further stressed that if Africa is to survive politically and liberated it must unite. "It we want to survive in this cruel world, we have no choice but to form one government and one country. It can take 50 years, 100 years maybe 250 years but it doesn't matter," he said. He cited an example of the United States, which he said took over 200 years to be what it is today.
Mr. Amadou Taal of Worldview said that the day is being celebrated worldwide, including in the US and Europe. He however said that this year's celebration happened at a time when the world is currently facing a serious food crisis because of which Africa is reeling the most. He said that we are still far from the 1963 targets.
The occasion was chaired by Mr.Ousman Yarboe, Director of Tango.
Read Other Articles In Article (Archive)