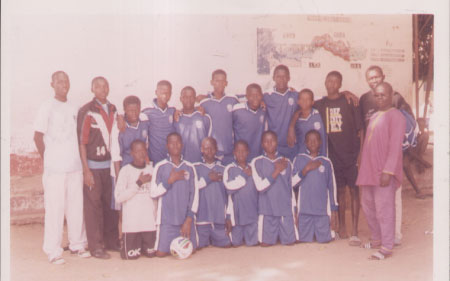 The 2012 edition of the annual inter-primary schools football tournament sponsored by Robert John (Bob) ended recently with Brikama Primary School emerging champions.
Ninety schools from Banjul, Kanifing Municipality and West Coast region participated in the tournament which was coordinated by Musa Mendy of the Ministry of Education.
Four schools made it to the final day of the tournament on Saturday 12 December 2012 at the Banjul Mini Stadium.
For the 3rd and 4th place match, Campama Primary School of Banjul locked horns with Sukuta Primary School of West Coast Region in the first game of the day.
Campama Primary School of Banjul emerged victorious 3-0 on penalty kicks after a goalless draw in the game.
The grand final of the tournament was the next clash between Bakoteh Annex Primary School of Kanifing Municipality and Brikama Primary School from West Coast Region.
After a hard fought goalless draw in normal time, Brikama Primary School defeated Bakoteh Annex Primary School on penalty kicks 4-3.
As champions, Brikama Primary School received a trophy, Gold medals for each player specially designed for the tournament; runners-up Bakoteh Annex Primary School went home with Silver medals while Campama and Sukuta Primary Schools bagged Bronze medals.
The four referees that officiated the final were donated brand new referees' kits and gold medals.
The four schools, namely Brikama, Bakoteh Annex, Campama and Sukuta were provided jerseys donated by Colwyn Bay FC from Holywell Town in UK, while T. Teejac from the UK also provided T-shirts for the four teams.
Speaking to the Press after the final, Musa Mendy from the Ministry of Education thanked Mr. John whom he described as a true friend of The Gambia, for sponsoring such a wonderful competition for Gambian schools.
He further appealed to Mr. John to look for more funds to cover the entire country.
For his part, Mr. John thanked the Colwyn Bay FC and T. Teejac for providing the jerseys and T-shirts for the four teams and promised that the tournament will continue next year with more schools.
He finally hailed Banjul Sports Committee and Mr. Mendy of the Ministry of Education for their continued support.
Read Other Articles In Article (Archive)