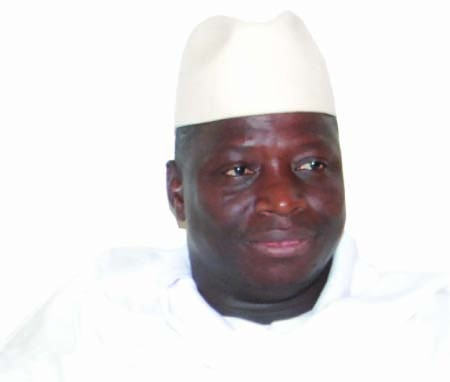 President Yahya Jammeh has once again launched another attack on homosexuals or gays, calling them vermin, and vowing that his government "will fight them the same way we are fighting malaria-causing mosquitoes".
In an Independence Day anniversary statement delivered on his behalf by the mayors of Banjul and the Kanifing Municipality Tuesday to mark the country's 49th independence anniversary, which has been decentralised, President Jammeh said while his government wishes to maintain peaceful relations with all countries near and far, he will "never accept any ungodly, satanic and anti-human behaviour as a way of life or a human right".
''We will, therefore, not accept any friendship, aid or any other gesture that is conditional on accepting homosexuals or L.G.B.T.as they are now baptised by the powers that promote them. As far as I am concerned, L.G.B.T can only stand for Leprosy, Gonorrhoea, Bacteria and Tuberculosis; all of which are detrimental to human existence,'' he stated.
Homosexuality, Jammeh added, will never be tolerated and, in fact, will attract the ultimate penalty since it is intended to bring humanity to an inglorious extinction.
According to President Jammeh, The Gambia will continue to pursue a foreign policy based on equality and genuine friendship with the rest of the world.
''Such friendship must be anchored on mutual respect and the inviolability of our sovereignty and independence. We are not against any country or race, but we demand absolute respect for our religious values from all nations regardless of size, race, wealth or ideology.''
Further stating that in interacting with the rest of the world, "Gambia shall continue to jealously guard our independence and sovereignty", President Jammeh said his government does not and shall never interfere with the domestic politics of any nation and, therefore, "we will not tolerate interference in our domestic affairs under any guise".
He emphasised that his government places "a high premium on national security, and this sacred national interest will never be sacrificed on the altar of satanic and ungodly international standards that continue to promote the evil agenda of the world powers that are today playing god to Africa and the third world".
''Our democracy will be built on and sustained by our religious beliefs and cultural values; and as I declared for a theme during the last July 22nd anniversary, we will continue to "live according to our religion".
''Therefore, the coercive and dictatorial pressures by some foreign powers aimed at imposing on us their ungodly and decadent cultures like homosexuality, and unbridled freedoms that endanger the peace and welfare of the majority, will never be accepted in this country,'' he declared.
"These dangerous and irresponsible freedoms by these satanic forces," Jammeh went on, "would one day lead to brothers marrying their biological sisters and fathers marrying their own daughters and mothers marrying their own sons.
''Such an evil world they are preparing for mankind, cannot be accepted by We ALLAH worshipping Muslims and Christians the world over; more so, Africans, especially Gambians,'' he said.
Read our tomorrow's issue for the full text of President Jammeh's statement.
Read Other Articles In Article (Archive)