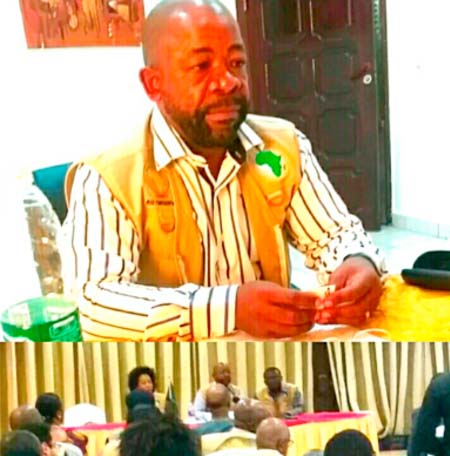 The African Union Election Observation Mission (AUEOM) to the National Assembly Elections in The Gambia held on 6 April 2017 has commended the peaceful conduct of the elections.

The AUEOM led by Mr Terry Tselane, Vice Chairperson of Independent Electoral Commission of South Africa, comprised 30 observers drawn from members of the African Ambassadors to the AU in Addis Ababa, the Pan-African Parliament (PAP), Election Management Bodies and civil society organizations.
Their mission, jointly supported by a technical team from the AUC, PAP and the Electoral Institute for Sustainable Democracy in Africa (EISA), was aimed at making an independent, objective and impartial assessment of the 2017 National Assembly Elections; and to offer recommendations for improvement of future elections that will contribute to the consolidation of democratic governance, peace and stability in the country.
The AUEOM was mandated to observe the April 6th National Assembly elections in conformity with the relevant provisions of the African Charter on Democracy, Elections and Governance (ACDEG),the African Union Guidelines for Elections Observation And Monitoring Missions as well as the laws of the Republic of The Gambia.
Their observations and recommendations were based on the principles of credibility, transparency, fairness and professionalism in the conduct of the elections as enshrined in the aforementioned AU instruments.
According to their report, they were satisfied with the smooth voting process in all the 159 polling stations across the 48 constituencies in the 6 administrative regions of the country as "no form of irregularities" were observed throughout the opening, voting and closing procedures.
The AUEOM assessed The Gambia's voting system as peculiar, unique and voter friendly, noting that the adoption of a standard voting system has contributed to the professionalism of the electoral process as officials have become familiar with the procedures over time.
They further noted the low voter turnout in some regions like Banjul, Brikama and Kanifing.
According to their preliminary statement, they were satisfied with efforts by stakeholders such as the National Council for Civic Education (NCCE) to ensure that citizens and political parties embarked on peaceful and issue-based campaigns but enjoined them to undertake effective measures to sensitize and mobilize voters for elections to address the low voter turnout observed during the 2017 National Assembly elections.
They however called on the government to focus on national reconciliation in view of the events of December 2016 to January 2017 and encourage the people of The Gambia to tow the path of peaceful coexistence with mutual respect for religious, ethnic and political differences.
The AUEOM commended the Independent Electoral Commission (IEC) for its professional conduct of the elections considering the events in the months before the elections and the time constraints faced by the commission.
They further commended the IEC for measures undertaken to enhance the integrity and credibility of the elections aimed at safeguarding the legitimacy of the election outcome in conformity with the 2007 African Charter on Democracy, Elections and Governance.
Read Other Articles In Article (Archive)