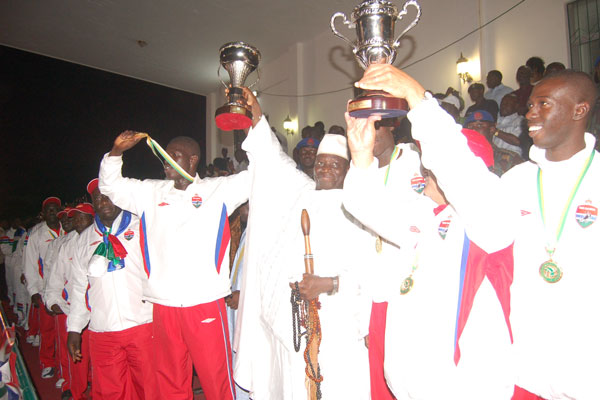 For holding Gambia high in Algeria, President Yahya AJJ Jammeh will today present to the national U-17 team and officials one million dalasi each.
President Jammeh unveiled this plan in the course of the victory celebration of The Gambia U-17 team at the July 22nd Square in Banjul on Saturday amid a thunderous welcome by fans.
President Jammeh commended members of the team pointing out that they have made the entire country proud noting that now their next target should be to bring home the world cup from Nigeria in October. His Excellency has also promised a surprise package for the world cup in Nigeria.
"We want the world cup this year and we must have it. By the grace of Allah we will bring the junior world cup to the country. Though the senior team will not participate in the 2010 play-offs in South Africa, but I am giving notice to FIFA that The Gambia will participate in the next world cup," president Jammeh asserted.
He stated, "I will liaise with GFA President Seedy Kinteh and the Secretary of State for Youth and Sports, Sheriff Gomez, for the team to embark on a nationwide tour so that people in other regions will see them".
He commended Algeria for demonstrating the spirit of true sportsmanship as despite losing, they behaved well and also supported the Gambia U-17 team.
Seedy MB Kinteh, President of the Gambia Football Association, the team travelled to Algeria with two targets. One was to qualify for the world cup; the other to win the African Cup.
"But despite many challenges from our opponents we were able to overcome them and win the title for the second time," he stated.
Sheriff Gomez, Secretary of State for Youth and Sports, pointed out that it is through President Jammeh's efforts of instilling courage in the boys that they were able to gain more confidence and prepared to go out to win trophies for The Gambia.
Also speaking at the occasion was first Vice President of the Gambia Football Association, Major General Lang Tombong Tamba, who commended the president, the media  and all the companies that were behind them during the team's preparedness.
The Gambia U-17 who had a successful campaign in the 8th U-17 championship and also made history by going unbeaten during the entire championship, conceding only one goal, also received the fair play trophy.
The team was welcomed by thousands of jubilant supporters from the BanjulInternationalAirport to the July 22nd Square in Banjul.
 Having beaten hosts Algeria in the final on Thursday, the boys who were supposed to be in Banjul on Monday were ferried to Banjul, courtesy of President Jammeh who hired Royal Air force of Morocco to bring the team back to Banjul.
Read Other Articles In Article (Archive)