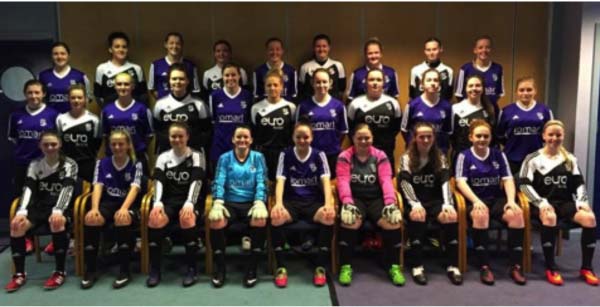 The Gambia will receive international attention in November when the Glasgow Girls from Scotland land on the Smiling Coast of Africa for a series of football matches, football-related activities and community services.
The dream trip is deemed to be one of those programmes that will catapult women football in The Gambia.
The trip is courtesy of Adventure Kicks Scottish-based football development and sports tourism company that cater for footballers and teams of all abilities in collaboration with the Gambia Football Federation through a local football academy, Gilkock Football Academy, Brufut Branch.
Talks have been in place since April and all parties have since been working hard to see this dream project for women football come through.
Speaking to Nna Gambia News Online, the head of football at Adventure Kicks, Martin Myers, who is a FIFA licensed match agent, said: "We have secured a number of key partnerships in The Gambia and thank the GFF for their continued support.
"Currently we are working with Glasgow Girls to secure the best flight deal through the airline, Thomas Cook, as well as promoting their overall fundraising efforts."
Martin added that things look very positive.
"As in most countries, investment in the female game doesn't match the men's game and so the club are having to be innovative in its approach to secure the funds for the trip.
"Once finalised we shall then agree a playing schedule with the GFF though Gambia Women Football Association and clubs.
"We also have plans to do some coaching programme with clubs and the club we are bringing will do some community work as part of its community initiative."
Martin said that they have since started an online fundraising to facilitate the trip, noting that it is another way of raising funds.
He however thanked those that have already contributed, saying: "In a month, the campaign has seen many contributions."
Myers said that at their end, they are using the trip to raise the profile of women football both home and abroad, which was why they were on TV to maximize publicity for the trip.
"Currently, there are not the same opportunities for females in football as there for males.
"By maximizing the publicity for the trip we can make steps to change attitudes towards the female game whilst also inspiring young girls to take up the sport.
"Football is a powerful tool and we believe we have a trip that can be used to promote women in sport; therefore any media coverage can only be positive," he told Nna Gambia News Online.
Even though Martin acknowledged that it is not going to be easy to bring the ladies team to The Gambia considering the finance involved, he is optimistic that with the recent public announcements, across the national media, they are assured that the trip will go ahead as planned.
Read Other Articles In Article (Archive)