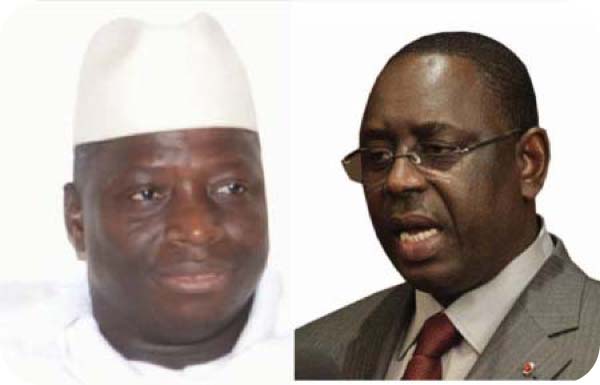 President Yahya Jammeh has said Senegalese President "Macky (Sall) cannot harbour my enemies and say that he is my friend; that's impossible."
Jammeh was addressing thousands of people at July 22nd Square in Banjul last weekend, to celebrate the victory of his guest, the Senegalese wrestler Eumeu Sene.
Speaking in Wollof, President Jammeh made the following remarks: 
"If I have problem with the government or the President of Senegal, you the people of Gambia and Senegal have nothing to do about it; this is political.
"I want you to know that Gambia and Senegal are the same people and one family.
"There is no language that is spoken in The Gambia that is not spoken in Senegal; and there is no culture in Senegal which is not in The Gambia.
"It's only politics that divides us, and the hypocrites - the French and the British.
"If the French and the British can come together and form the European Union, why cannot Gambia and Senegal be one?
"I am not a politician; I am merely speaking the truth.
"The problem between us is that you cannot be my friend and at the same time harbouring my enemies. We Gambians have never done that. There is nobody who has a problem with Senegal that has ever come to stay in The Gambia, and even using newspapers to attack Senegal.
"However, whatever you do is between you and God.
"If I didn't like Senegal, then I would have sent all those Senegalese vendors in the market, because they occupy more than half of the market.
"Most of the work being done in The Gambia is done 99 per cent by Senegalese companies. 
"There are 800,000 Senegalese residing in The Gambia, which is half of the population of The Gambia.
"Macky cannot harbour my enemies and say that he is my friend; that's impossible." 
"All Senegalese can stay in this country without anyone giving them any trouble. They can stay comfortably here, more than they can in Senegal, without anyone giving them any trouble.  You shouldn't be involved in my problem with Macky Sall, because we are all one and one family.
"Someone will come who will believe in what I believe. We blacks are all the same, whether from Congo or the Kalahari Desert; we are all the same. We are all Africans; we should work toward bringing peace and stability.
"Someone said that Macky has come to The Gambia three times without me going there, but they forget that I have gone to Senegal two times, and I spent the night there.
"One was on the occasion of his inauguration, and the other for the ECOWAS Summit that was hosted by Senegal. You can ask him; that summit should have been in The Gambia, but he begged me for it and, I swear, I told him that he is my brother and can host it; witnessed by Goodluck Jonathan. So if he said I didn't go to Senegal, he is making a mistake.
"But today, hence he is hosting my enemies, then he can't host me and host my enemies in the same place. You cannot put cats and dogs on the same bed.
"If you think because of this I won't carry on with the building of the bridge; the Trans-Gambia Bridge, it's a big mistake. Because I will do what will benefit everyone.
"I will build the bridge for the Gambians, Senegalese, Guineans of Bissau, etc., to benefit. I want anything that will bring progress to all, but anything that will bring problems I am not part of it. I will do good, and the rest I leave to Allah. It's Allah who will reward me.
"But if you go, know that I am not an enemy to the Senegalese.
"It was said that I said no Senegalese musician should play here; but recently Vivian and Aji Ouza were all here, and they played without any problem.
"The population of the Gambia is 1.6 million, half of which are Senegalese."
President Jammeh in his speech also said if he were to contest with Mack Sall in an election in Senegal, he would defeat him and Macky would lose his deposit, "because I am more for the people than him - Macky."
"When you go to Senegal with my picture, you would lose it at your first entry point, because the people will tell you 'Jammeh is our president.'"
"The love the Senegalese have for me is genuine. I should thank them sincerely.
"Previously, I had the same problem with Abdou Diouf and Abdoulaye Wade; but all of them realised their mistakes, and said you have foresight."
Read Other Articles In Article (Archive)