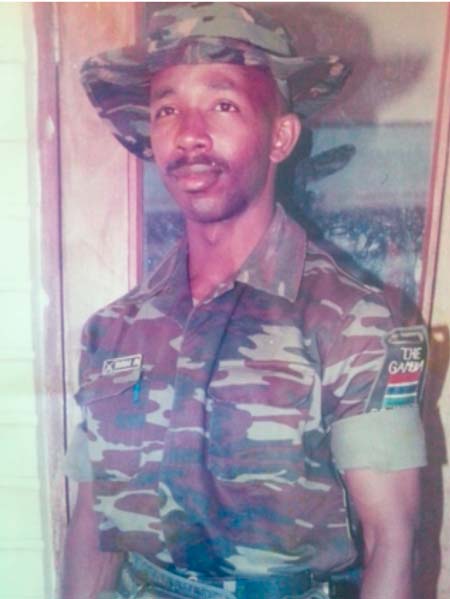 Mamadou Bah, a brother to RSM Alpha Bah, has said former President Jammeh, former Interior Minister Ousman Sonko and their team should face the International Criminal Court to answer for their actions during their time in power.

Mamadou Bah was speaking during an interview with journalists on Friday when more than 200 people recited the Koran for RSM Alpha Bah at his compound in Kololi. They also prayed for Daba Marena, Sergian Corr, Lt Alieu Ceesay and Lt Low who also died after being accused of a coup plot.
He said that RSM Bah was captured and killed by Jammeh's regime which later informed the public that RSM Bah and his team were involved in a car accident en route to Janjangbureh prison; a claim he said was false.
He added that since that time nobody had investigated the issue and that even those family members who went to investigate where the vehicle had the accident were arrested.
"I don't want to inform the mother but I already know that they have killed him. I am calling on Adama Barrow's government to make efforts to bring all those who were involved in this issue to justice. We also want to see where they buried them. RSM Bah left two children behind and these two children are going to school. We are calling the government to help in the children education."
Bah also mentioned that after the arrest of RSM Bah, a few days later, some members of the military came to the compound and took all his things including his vehicle to Fajara barracks. "Still we could not see that vehicle as well as his bank book including his compound documents which are also missing," he said.
Sulayman Jorbateh, a friend and a brother to Alpha, also said his brother has gone but his legacy lives on.
He stated that he was a school dropout and only continued in education because Alpha, with the help of God, paid his school fees. He added that this was one of the driving forces behind his search for truth in Alpha's case.
Mariatou, Alpha's mother, said they got the news from Taranga FM that her son Alpha had been killed. "I was thinking that he was just in jail. Since he was arrested we were afraid to make a follow up," she told reporters.
Fatoumata Bah, Alpha's wife, said, "I was informed by people that Alpha is arrested and his reason of arrest was that he was involved in a coup plot and since that happened I was not thinking that he was killed. We got the information from the radio that he was killed."
She continued, "During President Jammeh's time people always feared revealing information. When the President made the announcement that he has forgotten some prisoners we were thinking that Alpha is among those released prisoners, but later we came to know that he is not one of them. What I want this government to do is to make efforts to investigate where they buried them and who are the people who killed them."
Madam Bah added that the two children she had with Alpha during their ten years of marriage also deserve to know where their father is buried.
Read Other Articles In Article (Archive)