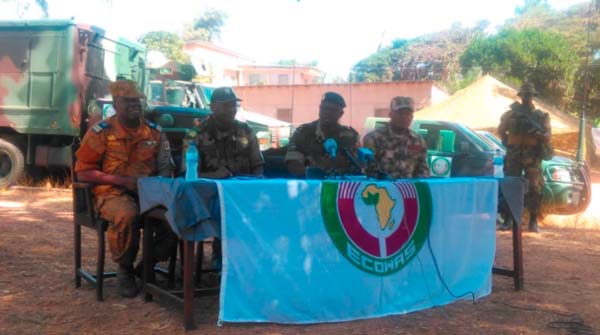 The ECOMIG forces in The Gambia led by Senegal yesterday met with the press to explain their primary mandate in the country.

Speaking at a press conference held at the Fajara Barracks in Bakau, General Ndiaye said they are in the country to ensure the safety of President Adama Barrow, political leaders and the entire population.
According to General Francois Ndiaye, their mission was a mandate given by a coalition of ECOWAS member states that was decided and planned in Abuja, Nigeria.
He said Senegal, Nigeria and Ghana pledged troops, adding that the pledging has also specified the means to be used to deploy ground troops.
General Ndiaye emphasised that each of these countries managed to deploy troops and means, without any external contribution.
He added their second mandate is upholding the results of the presidential election of 1st December 2016 in The Gambia.
The third mandate is ensuring that the president-elect was sworn into office on 19 January 2017, in conformity with the constitution of the Republic of The Gambia, which he said had already been done.
He pointed out that they would make sure that every phase of the process runs smoothly, with "no delay of any process".
He also shed light on their relationship with the Gambia army, stating that they have "no problems with them", and that the bond between them is still maintained.
General Ndiaye also said that when he went to State House with some of his colleagues, the AC's were on "but nothing like chemicals were detected," he said.
What he saw at the State House, according to the Army General, was pesticides, which were meant to kill termites.
General Ndiaye remarked that they would make sure that peace prevails in The Gambia, as that is what they are known for, as well as ensure the safety of President Barrow and the population.
He concluded by saying that full security will be given to the President.
Read Other Articles In Article (Archive)