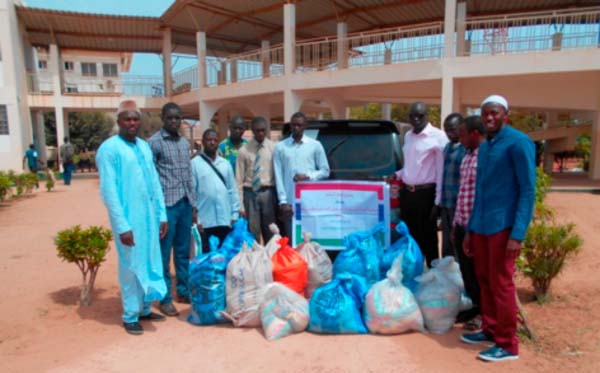 Jameyatou Ahebbaae Rasulull Akram Foundation based in Sukuta in the Kombo North district of the West Coast Region Monday presented Ramadan gifts to patients at the Serekunda General Hospital.

The presentation of the food items held at the hospital was attended by members of the foundation, led by Alieu Njie, president of the foundation.
The foundation also provided the gifts in recognition of the service the management and staff of the hospital are rendering to humanity, as well as to nurture the Islamic values of caring and sharing, especially during the holy month of Ramadan.
Speaking at the presentation ceremony, the foundation's president, Alieu Njie, underscored the numerous assistance the foundation has given to humanity to support the most vulnerable people in the society.
He said his association is, therefore, delighted to distribute rice, sugar, and dates as part of their annual humanitarian activities.
In receiving the items, Sankun K.T. Jaiteh, health information officer at the Serrekunda General Hospital, thanked the foundation for the gesture, more so that it was done during Ramadan, a month of caring and sharing.
"We are very grateful to receive this kind of gesture for our patients at the hospital," he said, adding that items were given at the right time as every Muslim needs such gifts during the Ramadan month.
He said some of the patients find it very difficult to get such items, hence they would continue to bless the foundation as they were highly appreciative of the items given to the patients.
Considering the number of patients, every contribution is important, Mr Jaiteh stated, as he commended the donors for the move he described as a step in the right direction.
"We are looking forward to seeing other philanthropists follow the step of the Jameyatou Foundation; as we all know, hospital service is not easy and the government alone cannot do everything. This is why we are calling on philanthropists to come to our aid."
Read Other Articles In Article (Archive)